Nutrition -
Diet and Nutrition Articles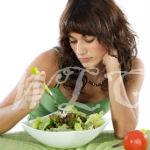 Have you ever felt lightheaded on a diet program? Well, first off, you shouldn't feel alone because this is actually a common side effect that many people experience while they are trying to lose weight. But what exactly causes you to feel lightheaded on a diet, and what does it all mean? Continue reading to learn more so you can avoid this unpleasant symptom in the future.
You Aren't Getting Enough Sodium
Cutting down on your salt intake might be a good part of a healthy diet, but you don't want to overdo it. If your sodium level drops too low, you could end up experiencing symptoms similar to those of potassium deficiency. Those symptoms include fatigue, muscle cramps and weakness, and dizziness or lightheadedness.
Try adding a bit more table salt to your food and see if that helps to ease your symptoms. With the right level of sodium in your body, you will enjoy fluid balance, and you will also be able to maintain your blood pressure at a healthy level so that it does not drop too low and cause lightheadedness as well.
You Aren't Hydrated Enough
Another reason why you might be experiencing lightheadedness while dieting is dehydration. Remember, your body needs a lot of water to remain healthy, so if you are not drinking enough water, you will experience symptoms like decreased urine production and increased thirst too.
Drink water at every meal, and make sure you drink water in between meals as well to help eliminate these symptoms and ensure you are always hydrated.
You Aren't Getting Enough Calories
Restricting your calories while dieting could result in irritability, anxiety, hunger, and lightheadedness. Plus, it could result in dangerous nutritional deficiencies and other complications.
Rather than focusing on eliminating as many calories as possible, stick with getting around 1,200 calories, as a minimum, throughout the day. Burn off those calories by being active and following a consistent exercise routine so you can lose weight while feeling good.
Now that you know more about what causes you to feel lightheaded on a diet, you can take the appropriate steps to take care of your body and support it while you are trying to lose weight. With the right approach, you can be on a diet while feeling energized and healthier than ever. But if you try changing your ways and you still don't feel well or you are still experiencing lightheadedness, you should see your doctor to rule out other health problems that might be causing your symptoms.
Join Weight Loss Center