Fitness -
Fitness Articles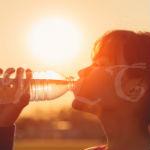 Summertime is a great time to get up off the couch and get active. That said, the hot weather makes it especially important to take action to prevent dehydration during summer workouts. After all, most of us are already sweating even when we're sitting still throughout the summer months, let alone when we're active!
Still, many of us don't take the need to prevent dehydration during summer exercise seriously enough. Despite the fact that most of us have been overheated several times in our lives, it's not uncommon to make hydration a low priority when we're focused on the sport or workout we're trying to complete.
However, if you fail to prevent dehydration during summer workouts, you can place your performance or even your health at risk. Instead of causing yourself to become very uncomfortable or even sick, use the following simple and even pleasant tips to keep yourself hydrated while you work out this summer.
•
Drink water

Yes, it's just that simple. Drink clear, cool, plain old water before, during and after exercise. This is important at any time of the year, but particularly when it's hot out.
•
Don't overdo it with water

Don't force yourself to drink it if it doesn't appeal. Sip it now and again and drink when you're thirsty. The key is to be aware of the sensation instead of ignoring it. Drinking too much water can do more harm than good.
•
Take breaks

If you start to feel very hot, take the opportunity to cool down. Head out of the heat, such as into air conditioning or at least in a shady patch. Have a seat and be calm for a moment to bring own your body temperature.
•
Use sports drinks wisely

Sports drinks aren't meant for improving hydration during light exercise or just to sip throughout the day. Instead, they're meant only if you need to replace carbs and prevent hypoglycemia during exercise. Not sure if that's what you need? Then it's a good idea to ask a doctor or nutritionist before you choose a sports drink over water. Otherwise, all you're doing is taking in too much sugar and sodium.
•
Choose cooler times of day

Early morning and later in the evening are the coolest times of the day, making them great for preventing dehydration during a workout. If you can't head out during those times, at least avoid the hottest hours when the sun is the highest, which are typically from 11 am to 2 pm.
Join Weight Loss Center