3G BURN
Diet Pill Reviews

Hits: 6465
Rating:

( 8 Ratings )
3G BURN Harnesses the Power of Forskolin for a Premium & All-Natural Thermogenic Formula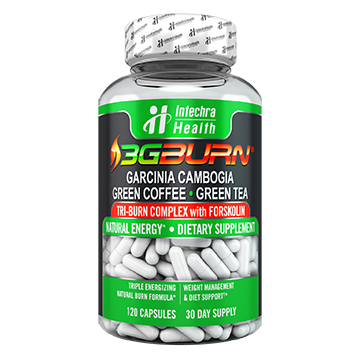 3G BURN CAPSULES are clinically formulated to help support your lifestyle changes to lose weight. The all-natural formula was meticulously selected to ensure efficient weight management when prescription pills aren't appropriate for you. Whether you've tried other pills before or have never tried one in your life, 3G BURN will help you tackle your weight management strategy like never before. This powerful diet pill made with natural ingredients was entirely created by Intechra Health Inc. As an American company that manufactures its products right here in the U.S.A., every capsule contains premium, high-quality ingredients that have each been clinically studied for effectiveness and safety. It includes energy boosters, thermogenics and focus enhancers to make sure you will always be armed against the biggest barriers to weight loss strategy success. 3G BURN was formulated to help you make the changes that can allow you to finally drop the pounds.
---
Buy 3G BURN - Our Top-Rated Natural Burn Formula!
120 count - 1 Month
No Savings
240ct - 2 Months
Save $6
FREE SHIPPING
360ct - 3 Months
Save $13
FREE SHIPPING
720ct - 6 Months
Save $45
FREE SHIPPING!
3G BURN Diet Pills help you achieve weight management advantages you'll love right away!
Wouldn't you love to take your dieting strategy to a whole new level?  That's just what 3G BURN WHITE with RED CAPSULES have been developed to do.  Their TRI-BURN Complex was created to offer overweight dieters the types of benefits that will allow you to choose an alternative to medications such as Adipex and Phentermine, the leading prescription diet drugs, when those obesity treatment medications aren't appropriate for you. Instead, these capsules support you where you really need it.
3G BURN provides advantages that will make your weight management strategy
safer, easier and more affordable.
3G BURN High-Quality Ingredients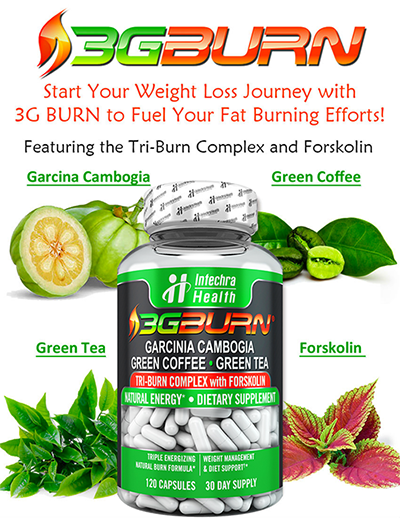 Following lengthy research and a painstaking balancing of the premium substances that make up this TRI-BURN Complex formula, 3G BURN came to be. Each ingredient within these capsules was chosen based on clinical study and research. This ensured that science backed each of the benefits and that they could be trusted by every user. Now dieters can feel confident that they have selected a diet pill that contains only the best and most efficient ingredients for helping them as they reach for their goals.
The ingredients that comprise the 3G BURN proprietary formula are: Garcinia (fruit) Extract, Green Coffee (bean) Extract, Caffeine, Forskolii (root) Extract , Green Tea (leaf) Extract.
Those three "Gs" combined with forskolin and caffeine provide a robust, potent combination. Each of those substances has been clinically researched so you can trust what you're using to support your efforts to overcome the most common struggles faced by dieters. With this blend, overweight dieters can choose a safe and affordable natural alternative made just for them, while obesity patients use prescription diet pills like Adipex and Phentermine.
After all, 3G BURN is a non-prescription weight management support formula. It contains natural ingredients and is used throughout the length of a weight control strategy without the risk of severe or dangerous side effects. Furthermore, unlike prescription drugs used by obesity patients, these diet pills for overweight dieters can be used without risking chemical dependency.
It is for these reasons that 3G BURN has rapidly risen among the most popular choices of diet pills across the United States. It is a favorite for people who need help to reach their goals but who can't use prescription drugs because they are not seeking doctor-guided obesity treatment.
How To Take 3G Burn Diet Pills
To use 3G BURN diet pills in order to get the most out of their unique all-natural TRI-BURN complex, it's important to follow the package directions carefully. For directions more customized to your unique medical needs, weight loss strategy and expectations, it is always a good idea to speak with a doctor. That way, you'll know that you're not only using the diet pills to your very best benefit, but you'll also be making the right lifestyle choices.
After all, it's important to keep in mind that 3G BURN was developed to support your weight loss strategy, not somehow cause fat to magically disappear from your body. Therefore, to make sure you're getting the best benefit from these nature-based capsules, you need to choose the top healthy lifestyle strategy for you. Often, this begins with calorie tracking and regular exercise. It may also involve balancing your macronutrients (carbohydrates, proteins and fats) to a certain ratio, but that is a move that can be achieved over time.
Most doctors recommend adding lifestyle changes gradually so that you can learn each change and build it into your life as a habit. Taking on changes in a gradual way will also allow you to avoid becoming overwhelmed. Many people also discover that by adding a new change every week, it helps to keep their interest and motivation high. Things can't get stale when they're always changing and evolving in new ways that will improve the way you feel and the results you see in the mirror or on the scale.
Taking 3G BURN according to the package directions involves taking 2 capsules with 8 ounces of water (one cup), twice per day. Taking these pills 30 minutes before the first two meals of your day helps to make sure you'll enjoy the benefits for the longest period of time – including throughout your meals – while avoiding using the capsules too close to bedtime. Since this is an energizing product, it's not recommended that you use it within 5 hours of your bedtime. This makes sense as the last thing you want to do is power yourself up at exactly the time you want to be winding down!
Make sure to use these diet pills along with your healthy weight loss lifestyle changes so you can be confident that you're taking all the best steps to reach your goals. Taking these capsules will only make it easier for you to overcome the main challenges to healthy lifestyle changes such as reducing our calorie intake and becoming more active on a regular basis. The added energy, focus, and healthy metabolism support from the TRI-BURN Complex makes sure you will be powered up to keep up your exercises and do them at your best performance level. Equally, the improved focus will let you stay on track and build solid habits you'll maintain over time.
What if You Miss a Dose of Your Diet Pills?
Life is complicated and busy. Despite your best efforts to keep taking your diet pills on a regular schedule, the time may come when you miss a dose or forget to take it. If that happens, there's no reason to worry.
If you missed the dose by only a short period of time, simply take the pills as you usually would. If you missed the dose but the time of your next one is starting to approach, simply skip the one you missed and take the next one on schedule. Don't double your dose or try to make up for a missed one by taking extra pills.
How 3G BURN Ingredients Work
To design a weight management pill that would compliment a dieting and fitness strategy perfectly, the 3G BURN capsules had to contain the ideal balance of premium natural ingredients. It is this achievement that has allowed this diet pill to help dieters to reach successes that had never before been possible. Where they had faced an insurmountable struggle, they suddenly found themselves able to cope and move forward. That said, before taking any diet pill – including this or anything else on the market – there are two critical steps which must be taken by all dieters.
The first step is to make an appointment and speak with a licensed doctor. This will help you to know precisely how much weight you should lose, how quickly, and what are the best eating and fitness efforts you can make to get the very most out of this diet pill.
The second thing to do is look into each ingredient within a diet pill you're considering, so you'll know just what it is, what it does and what you can expect from it. Unlike many other manufacturers, Intechra Health understands the importance of this step and has openly shared the contents of its proprietary formula. This allows you to get to know just what these capsules have to offer.
The 3G BURN capsules each include the following ingredients:
Garcinia (fruit) Extract
Green Coffee (bean) Extract
Caffeine
Forskohlii (root) Extract
Green Tea (leaf) Extract
3G BURN Diet Pills Ingredients Research
Garcinia cambogia fruit extract, like green coffee bean extract, has received significant applause from the scientific community following a range of useful studies. Research has indicated that it is beneficial for effecting appetite size and, as a result, has the potential to impact food consumption in addition to other benefits such as inhibiting the effects of certain enzymes such as those that allow for body fat production and storage as well as those that contribute to fatty acid synthesis.
(Steven B. Heymsfield, MD; David B. Allison, PhD; Joseph R. Vasselli, PhD; Angelo Pietrobelli, MD; Debra Greenfield, MS, RD; Christopher Nunez, MED. "Garcinia cambogia (Hydroxycitric Acid) as a Potential Antiobesity Agent: A Randomized Controlled Trial." JAMA. 1998;280(18):1596-1600. http://jama.jamanetwork.com/article.aspx?articleid=188147&vis=837529825.14022720006240)
Green coffee bean extract is a natural ingredient that is rapidly gaining popularity due to a growing body of scientific evidence illustrating its efficiency and benefits. At the same time, it has been the focus of an impressive number of endorsements from highly respected medical authorities. This ingredient has shown itself to be effective in both the prevention of fat storage by the body and the inhibition of dietary fat absorption from food.
Caffeine is a form of a stimulant found in many everyday foods and drinks, such as coffee. It has not only been studied as a metabolism booster and as an appetite suppressant for some dieters, but it is also an effective energy booster and promotes alertness.
(Yoshida T, Sakane N, Umekawa T, Kondo M. International Journal of Obesity and Related Metabolic Disorders: Journal of the International Association for the Study of Obesity. "Relationship between basal metabolic rate, thermogenic response to caffeine, and body weight loss following combined low calorie and exercise treatment in obese women". [1994, 18(5):345-350] http://europepmc.org/abstract/MED/8061728/reload=0;jsessionid=sW4cu3KeAHFe2vCui3nt.4)
Coleus forskohlii root extract, also known as forskolin, has been shown in multiple studies to have benefits that can be very useful to dieters. These include fat burning and the reduction of body fat levels. This ingredient can be particularly helpful to those who include exercise among their efforts to lose weight as it may boost the fat burning impact of a workout.
(Shari Lieberman. Alternative and Complementary Therapies. "A New Potential Weapon for Fighting Obesity: Forskolin—the Active Diterpene in Coleus". December 2004, 10(6): 330-333. http://online.liebertpub.com/doi/abs/10.1089/act.2004.10.330)
Green tea leaf extract is a substance that includes polyphenols, which have been applauded for their broad spectrum of effects. Among them includes boosting the body's rate of fat burning to a measurable degree as well as inhibiting the lipase enzyme in the gastric and pancreatic systems. At the same time, this ingredient can also promote thermogenesis for an increased metabolism.
(Abdul G Dulloo, Claudette Duret, Dorothée Rohrer, Lucien Girardier, Nouri Mensi, Marc Fathi, Philippe Chantre, and Jacques Vandermander. "Efficacy of a green tea extract rich in catechin polyphenols and caffeine in increasing 24-h energy expenditure and fat oxidation in humans". American Journal of Clinical Nutrition. December 1999. Volume 70, Issue 6, pages 1040-1045. http://ajcn.nutrition.org/content/70/6/1040.short)
With such a range of ingredients and benefits, there is no mystery as to why 3G BURN has quickly become a star among dieters, especially those who would prefer the natural choice.
Why 3G BURN Reviews Are Consistently Positive
3G BURN reviews are regularly very high and steadily positive among overweight dieters. There are many reasons that the praise has been steady for these pills right from the time they were originally released.
To begin, many dieters enjoy that the formula has been carefully selected to provide an all-natural capsule. The trend toward natural ingredients and away from synthetics is a powerful one. Dieters like the opportunity to be able to avoid those synthetic substances when they can find natural alternatives that have been clinically researched. This is exactly the case with 3G BURN, as every single ingredient in its proprietary formula has undergone scientific scrutiny. There are reputable studies that have been conducted on every substance, each of which has been published in peer reviewed medical journals.
That scientific backing is another reason that reviews have been consistently positive. Dieters enjoy the confidence they can have in a proprietary formula because they know that the clinical study is there and that they can look at the research and see exactly what participants in studies experienced when they used these substances.
Additionally, this product is frequently positively reviewed not only because of its own benefits but because of the support that comes with it. Intechra Health provides several options for contacting support, including both by toll-free phone and online form.
Moreover, the company's official website provides regular informational articles that are free to read and that provide handy information about health, wellness and weight loss. There is also a forum that allows dieters to talk with each other and share their support in order to ensure they're learning from each other and keeping each other motivated.
Furthermore, Intechra Health also provides a free membership service called ShareFit, in which users can enjoy additional articles – many of which are written by nutrition experts such as a certified nutritionist – another forum as well as a free nutrition and fitness tracker that is both computer and mobile friendly. These additional tools can make it much easier for anyone using this supplement to be able to keep up with a healthy lifestyle diet while monitoring progress and identifying trends where additional changes can be made for top results.
Armed with all these tools and the right weight management supplements, it's no wonder why these capsules remain consistently well reviewed and popular among dieters. This trend is only expected to continue growing in coming months and years.
---