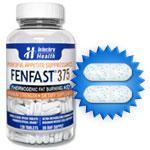 FENFAST 375 Helps Support Your Diet and Exercise Efforts!

FENFAST® 375 TABLETS are formulated to provide an alternative option for prescription medications such as Adipex and Phentermine 37.5. Even if you have never tried diet pills before, Fenfast 375 will give you the support you need to get closer to your goals each and every day.

Straight from the scientists at Intechra Health Inc. to you, FENFAST 375 addresses the major issue that makes fat loss difficult in the first place. It's high-quality, nutraceutical formulation supports improved energy and alertness and enhances mental function, so you can be more active and focus more easily on eating a healthy amount of calories. By supporting a more active lifestyle, you'll be equipped to burn more fat through exercise.
FENFAST 375 delivers fast and noticeable energy!

Do you want better, more consistent results from your dieting efforts? FENFAST 375 WHITE & BLUE SPECK TABLETS make it possible. They have been designed to look like Adipex and Phentermine, the top-selling prescription diet aids. FENFAST 375 provides a more affordable and easier to obtain alternative to prescription diet medications.
Reveal the healthier and more attractive feeling individual you know you can be. Get the support offered by the ingredients in FENFAST 375. Gain the energy you've been lacking to promote the kind of lifestyle that will lead to a slimmer, sexier you!
Support Your Weight Managment Goals With FENFAST 375!
FENFAST 375

Price

Savings

Add to Cart

FENFAST Tablets
120ct - 1 Month

$39

no savings

FENFAST Tablets
240ct - 2 Months

$72

Save $6

FENFAST Tablets
360ct - 3 Months

FREE
SHIPPING!
$99

Save $18

FENFAST Tablets
720ct - 6 Months

FREE
SHIPPING!
$179

Save $55
FenFast 375 Success Stories

Darren

Lots of energy - what a great way to lose weight!
I have been taking fenfast for 3 weeks and I am happy with the results. Even though I'm only eating about 1200 calories a day, I am never hungry and I have lots of energy - what a great way to lose weight. I will recommend this product to anyone who needs to lose weight but struggles with dieting. This product makes it possible to eat less without going crazy or getting dragged down.
Hanna

With these two little pills each day I have felt so much better
This was the second time trying a diet pill. I was really nervous about ordering it. I had heard about so many scams online. My order came within a few days and I thought that was a good sign. I didn't expect to like it - I was expecting to get the jitters like I had read about for other diet pills. This one [FenFast] didn't do that tho. I take one in the morning before breakfast and then another at lunch. With these two little pills each day I have felt so much better, with much more energy. Just wanted to let you know.
Kristen

There's hope for me now.
I bought these pills because I read online that they are a substitute for phentermine. My doctor won't prescribe phentermine to me anyorme so I decided to try Fenfast. Unlike phentermine, that gave me a dry mouth and fluttering in my heart, this stuff worked really well, but NO side effects. I was a little jittery the first couple of days, but that stopped and now they only feel great. I am back to buy a couple more months worth at least. There's hope for me now.
Melissa

I lost 16 pounds in the two months I took fenfast
I gave fenfast 3 out of 5 stars. I really thought long about what I wanted to tell people about it. The bottom line is that it does work, at least for the two months that I took it. It did everything that it says it will, including suppressing appetite and causing your body to burn more fat. I lost 16 pounds in the two months I took fenfast. I think maybe other diet products may help you lose more weight, but most places say that the amount I lost was "safe". I guess that's good. Also, I am pretty sensitive to caffeine and I felt kind of "buzzed" while I took fenfast. I sort of got used to it, but when deciding how to rate it, that definitely cost it one star. Overall I think it is a pretty good product. Good luck with it.
Doug

I'm sold! This stuff works like crazy.
I'm sold! This stuff works like crazy. You guys have made a killer product. I work out like mad and with the help of Fenfast I am getting lots of definition. No, it didn't help me build muscle, but I don't like those roid products. Fenfast is an awesome fat burner and that's all I wanted. Nice stuff Intechra, keep it going. Any new products coming out soon?
Janet

I took it for a month and liked the results.
I took Adipex a couple years ago and have been trying to lose weight ever since. I ordered fenfast 375 because it says it works like adipex and looks like it too. Anyway, I took it for a month and liked the results. I don't htink it was as powerful as adipex, but I still lost weight. I think I liked how it curbed my appetite the most. It made eating less a lot easier. I would recommend it.
FENFAST 375 High-Quality Ingredients
After extensive research and the careful balancing of the ingredients, FENFAST 375 was achieved. Every one of the ingredients that were selected has been scientifically studied, so that dieters can be certain they are using a product that contains high quality substances well-known throughout the diet industry. Among the ingredients within the proprietary formulation are: Beta-Phenylethylamine, Caffeine Anhydrous, Hordenine HCl and L-Theanine.
Each of these was selected from among hundreds of different options due to their ability to promote a more active lifestyle through enhanced energy and focus. In fact, these diet pills are chosen consistently by those looking for an alternative to prescriptions like Phentermine. The best part? FENFAST 375 does not require a prescription! It can be purchased securely online and delivered to your doorstep!
FENFAST 375 is able to be taken long-term, without the dangers associated with taking prescription drugs for extended periods. This means that you can enjoy the weight management support offered by this diet pill for as long as needed to reach your goals. It can also be used to help maintain a healthy weight over time by promoting the habits necessary for weight management.

Buy FenFast 375 Diet Pills - Safe & Secure - Free Shipping 3 Months +
These features have allowed FenFast 375 tablets to become the top choice among many dieters who are seeking an alternative to the leading prescription weight loss medications. They safely assist in the faster and easier reduction of fat levels, to reveal the healthier and more attractive feeling individual that dieters know they can be.
Weight Management with FENFAST® 375
When it comes to promoting a lifestyle that leads to a healthier weight, many dieters find that non-prescription pills such as FENFAST tablets provide just what they need. However, before you take any diet pill, it is recommended that you take two very important steps.
The first is to speak with your doctor so that you know exactly how much weight you need to lose, as well as what efforts should complement the use of the product, so that you can achieve the best possible results. The second is to investigate the ingredients within the diet pill that you have decided to take, so that you know exactly how it works and what you can expect from its use. In the case of FenFast, the American manufacturer, Intechra Health, has revealed all of the active ingredients within its proprietary formulation, to provide dieters with the opportunity to perform just this type of investigation.
Learn More About FenFast 375 Science-Based Ingredients - Click Here...
After all, the scientists that designed the FENFAST® 375 tablet used a great deal of time and research in order to choose the best possible non-prescription ingredients that have all been scientifically studied.
The FenFast 375 tablets each include the following ingredients:
Beta Phenylethylamine HCl
Caffeine Anhydrous
Hordenine HCl
L-Theanine
Beta Phenylethylamine HCl is a well recognized and highly studied ingredient that is known for very helpful benefits to promote weight management. Also known as PEA, researchers have discovered that by using this ingredient, greater overall body weight reduction can be achieved than is the case among similar dieters who were given a placebo. The reason is that this ingredient provides metabolism boosting and appetite suppression. Therefore, dieters can comfortably eat less and yet burn off more fats and calories than they would on their own.Oh I
Caffeine anhydrous has also been extensively studied and is one of the best known ingredients in the over the counter weight loss industry. It is recognized for its ability to accelerate the metabolism, suppress the appetite, and generate a helpful energy boost that combats fatigue among dieters. This both complements and furthers the benefits of Beta Phenylethylamine, to ensure the safest and yet most powerful results from the use of FenFast.
Hordenine HCl has been included in order to provide even better energy enhancement, while it also offers mood support that creates an ongoing motivation level that won't let the dieter quit without a fight.
Finally, L-Theanine was added to the FenFast 375 formula as a mood support ingredient. L-Theanine is best known for its incredible ability to decrease feelings of stress and anxiety, giving a calming effect. This is particularly helpful for dieters who may be struggling with stress and anxiety related to changing their diets and dealing with food addictions.
This combination makes it easy to see why FenFast 375 has become such a rapid favorite among dieters, particular those who are seeking a science driven alternative to prescription diet drugs.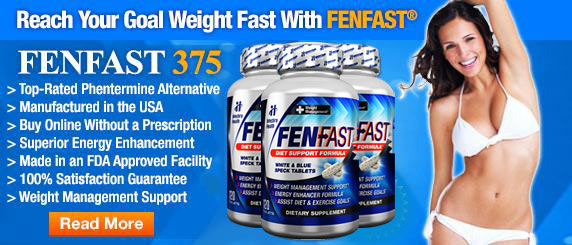 Join Weight Loss Center