PHENBLUE
Diet Pill Reviews

Hits: 15962
Rating:

( 11 Ratings )
The PHENBLUE formula contains only the highest-quality, scientifically researched ingredients to support healthy weight management.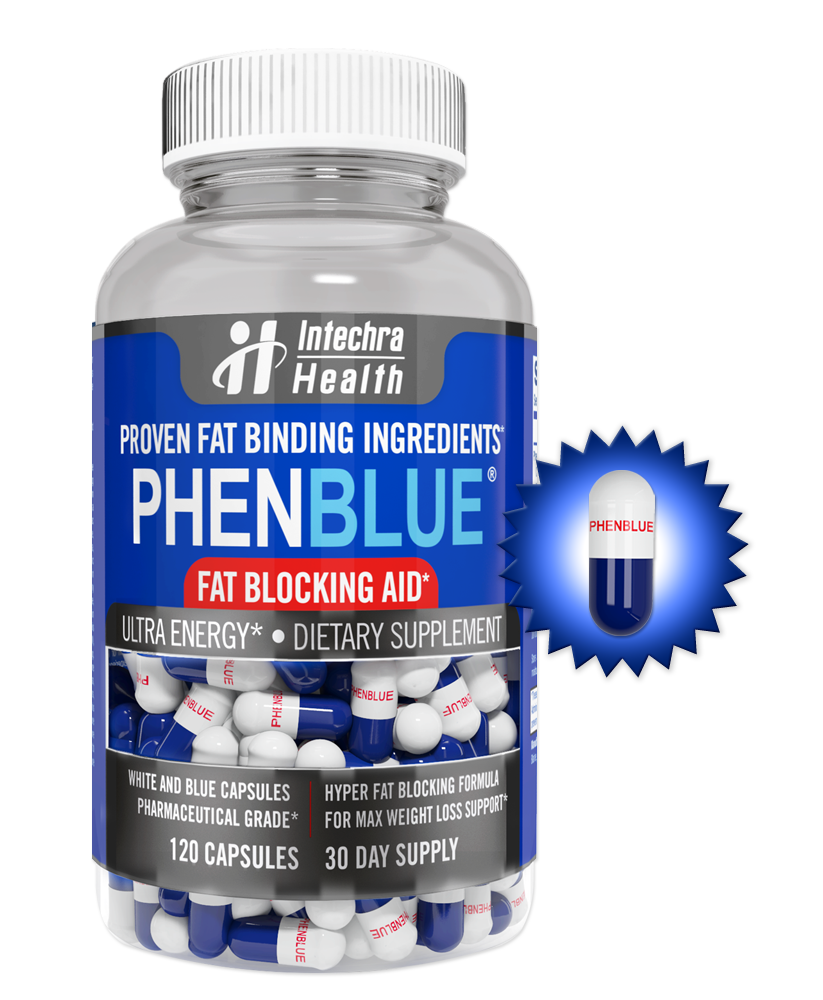 Have you been on the lookout for a non-prescription diet pill that provides an alternative option to prescription diet drugs like Phentermine, for dieters who are overweight, not obese? Are you seeking an option developed for your healthy weight management needs? Do you want a pill in which all the ingredients have been scientifically researched so that their effects and benefits are well known throughout the health supplement industry? If you have, then you don't have to look any further than PHENBLUE DIET PILLS.
PHENBLUE® White & Blue Capsules are one of the most complete weight management support supplements available anywhere. Made with the highest quality premium ingredients, PHENBLUE helps you gain the energy required to shred away stubborn fat through longer, more intense workouts. When combined with a reduced-calorie diet, these efforts will help you as you pursue your goal weight.
---
60ct - 1 Month
No Savings
120ct - 2 Months

Save $4
180ct - 3 Months

Save $13

FREE SHIPPING

+ 1 FREE BONUS bottle of FENFAST 375!
360ct - 6 Months

Save $45

FREE SHIPPING

+ 1 FREE BONUS bottle of FENFAST 375!
PHENBLUE CAPSULES Help You
Blast Through Fat-Burning Workouts
Like Never Before
Take your diet to the next level and experience consistent weight management support with PHENBLUE WHITE & BLUE CAPSULES. The science driven formula includes the highest quality, premium strength ingredients that are powerful enough to satisfy overweight people who are looking for effective alternatives to prescription diet pills when they can't use those obesity treatments. The ingredients in PHENBLUE diet pills make reaching for your goals less of a struggle
Start Achieving More with
PHENBLUE
Diet Pills
What does this mean to you as a dieter? Does it mean that your excess belly fat will simply disappear by popping a pill? Of course not! Read these amazing Success Stories to see how PHENBLUE diet pills worked for these customers.
How PHENBLUE Diet Pills Support Your Weight Loss Efforts
When it all comes down to it, the advantages of using PHENBLUE capsules, such as supercharged energy, are all the result of the winning proprietary formulation that was developed by the experts at Intechra Health Inc. The capsules are manufactured by an American company in facilities located in the USA. These facilities take extreme care to meet or exceed best practice standards for consistent quality and safety. These diet pills each contain a meticulous selection of some of the most intensely researched ingredients that are known to the non-prescription dieting industry.
When combined within this formula, the PHENBLUE ingredients can provide overweight dieters with added weight management support they need to make their efforts more achievable. When they aren't eligible for the leading prescription diet capsules, such as Phentermine Blue, which are meant exclusively for obesity treatment, they are far from being without options. In fact, the team at Intechra Health produced the capsules so overweight dieters would know they're not alone and don't have to go without support just because Phentermine can't help them
PHENBLUE Diet Pills Ingredients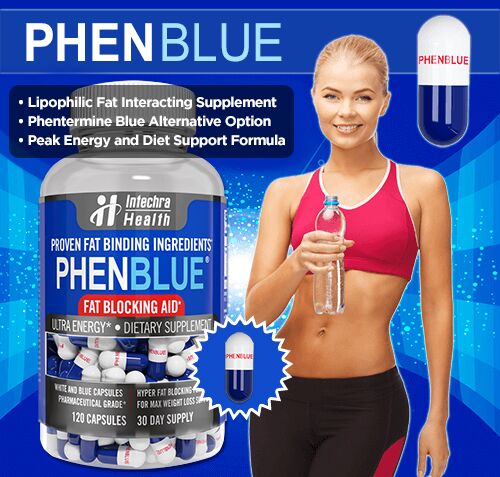 The power of PHENBLUE diet pills is a direct result of their ingredients. As you'll see in PHENBLUE reviews and descriptions, every active substance in these capsules has been clinically researched. The Intechra Health team took meticulous care to examine studies into each substance in order to best understand what they can do on their own. They then analyzed the effect these ingredients can have in combination with each other.
This allows dieters to feel confident in knowing that there aren't any mysteries when it comes to PHENBLUE diet pills and what they contain. Everything in these white and blue capsules is known in the weight management industry and recognized for top benefits.
The proprietary PHENBLUE® formula consists of the following ingredients:
NeOpuntia® (Prickly Pear)
Caffeine
Organic Green Tea (Matcha) Leaf Powder
Theobromine
How Does It Work? What Research Has To Say About PHENBLUE Ingredients
To understand why this PHENBLUE diet pills combination was able to achieve the goals of the weight expert team when they sought to create the best Phentermine Blue alternative for dieters who don't need an obesity treatment but are instead seeking dieting support when they have a BMI of 25 to 29.9, it is best to look at each of these ingredients individually.
The first ingredient is NeOpuntia®, which is a patented form of opuntia ficus-indica, better known as prickly pear. In studies, this cactus derivative has been shown to offer benefits including the ability to reduce fat levels in the blood. It may also be useful for lowering cholesterol and blood pressure, which is among the biggest health benefits overweight individuals commonly seek.
(Onakpoya, I.J., O'Sullivan, J., Heneghan C.J. "The effect of cactus pear (Opuntia ficus-indica) on body weight and cardiovascular risk factors: a systematic review and meta-analysis of randomized clinical trials". Nutrition. 2015 May;31(5):640-6.http://www.ncbi.nlm.nih.gov/pubmed/25837206)
The second ingredient is caffeine. This is a stimulant ingredient also known as 1,3,7-trimethylxanthine, that has been extensively studied for many medical and wellness purposes, so that its benefits and effects are well known. For dieters, the advantages it has been shown to provide include higher energy levels, and improved concentration and alertness. It may also improve memory and mental function, which could help dieters learn how to live a healthier lifestyle and remain focused on reaching their goals.
(Heckman MA, Weil J, Gonzalez de Mejia E. Journal of Food Science. "Caffeine (1, 3, 7-trimethylxanthine) in foods: a comprehensive review on consumption, functionality, safety, and regulatory matters". 2010 Apr;75(3):R77-87.http://www.ncbi.nlm.nih.gov/pubmed/20492310)
The next ingredient, Organic Matcha green tea leaf powder, is an excellent source of antioxidants called catechins. These catechins help fight damaging free-radicals in the body to keep it healthy. In studies, they have been shown to improve blood flow and reduce cholesterol levels. Green tea also appears to keep blood sugar levels in check for people with diabetes. This could be useful for people with uncontrollable cravings brought on by erratic sugar levels in the blood.
(Abdul G Dulloo, Claudette Duret, Dorothée Rohrer, Lucien Girardier, Nouri Mensi, Marc Fathi, Philippe Chantre, and Jacques Vandermander. "Efficacy of a green tea extract rich in catechin polyphenols and caffeine in increasing 24-h energy expenditure and fat oxidation in humans". American Journal of Clinical Nutrition. December 1999. Volume 70, Issue 6, pages 1040-1045.http://ajcn.nutrition.org/content/70/6/1040.short)
Theobromine is a vasodilator, which means it widens blood vessels. This purine alkaloid has been used to treat high blood pressure due to its diuretic effects and vasodilating properties. It also appears to increase the effects of caffeine, which is one of the reasons why it has been included in the PHENBLUE diet pills formula as the final ingredient.
(Mumford, G., Evans, S., Kaminski, B., Preston, K, Sannerud, C., Silverman, K., Griffiths, R. "Discriminative stimulus and subjective effects of theobromine and caffeine in humans". Phychopharmacology. June 1994. Volume 115, Issue 1-2, pages 1-8.http://link.springer.com/article/10.1007/BF02244744#page-1)
Who Uses PHENBLUE Diet Pills?
Many dieters find PHENBLUE reviews online when they're searching for Phentermine alternatives. That said, just because that's how they discover these over the counter diet pills, it doesn't mean that this was what the product was were developed for. In fact, these capsules are not alternatives to those drugs at all.
The reason is that being a Phentermine alternative would suggest that the product is meant for the same user and for a similar purpose. Phentermine is a prescription medication sometimes recommended for obesity patients. When those patients' health is at risk as a result of their excess body fat, the benefits of using Phentermine may outweigh the drawbacks such as side effects and addiction risk.
However, PHENBLUE is not meant to be used as an obesity treatment. This product is a non-prescription weight management support pill. It is developed for dieters with a BMI of 25 to 29.9 – the overweight category. Therefore, while many former Phentermine users choose this OTC product once they are no longer obese but still want support in their weight loss strategy, these two pills are not meant to be used as an alternative to each other.
PHENBLUE is best used by people who have a healthy weight management strategy to follow. This usually means that they are tracking their foods to stick to a calorie-reduced diet and are keeping up a regular fitness-appropriate physical activity level. Since building those habits and sticking to them over the long term comes with many challenges, these capsules help dieters to overcome some of their top struggles, making it easier for them to successfully keep going.
How to Use PHENBLUE With a Doctor-Recommended Weight Loss Plan
As already said, using PHENBLUE diet pills isn't just a matter of swallowing capsules. If you read top PHENBLUE reviews, you'll see that the people with the greatest success are those who use this weight management pill as an important piece in a healthy lifestyle plan.
Dieters who talk to their doctors before starting the use of PHENBLUE diet pills find that they are usually advised to eat healthy balanced meals and snacks within a certain calorie limit (based on many factors including starting weight, height, age, sex, and more). This also usually comes with a recommendation for regular fitness-appropriate exercise. A doctor may detail those plans him/herself or may recommend that a dieter speak with other specialists such as nutritionists, dietitians and/or a personal trainer.
Those additional experts can help to provide the types of details needed for a successful weight loss plan. Moreover, by using PHENBLUE diet pills, the dieter can overcome some of the most common challenges linked with introducing those new efforts. This makes them easier to maintain. Since the goal is to turn them into habits done naturally throughout the day, the weight management pill becomes a core tool for reaching success.
Here's how each component of a doctor-recommended diet can be supported by the use of PHENBLUE non-prescription diet pills.
Healthy Calorie-Restricted Dieting
Changing the way you eat is often considered to be one of the most challenging parts of dieting. Many people tend to associate restricting their calories with starvation. Others think that they will never be able to eat their favorite foods again. While neither one of those disadvantages needs to be true when dieting is done properly, the main challenge is actually the learning curve.
Eating well, within a calorie-restricted diet, is possible. Dieters are often surprised to discover that they can eat delicious, filling, satisfying foods every day even within a healthy calorie range. However, doing this often requires a lot of learning. It means building an understanding of the calorie content of different foods, the nutritional content of foods, and how filling various ingredients are. This includes learning new recipes, discovering how to use herbs and spices differently, and how to reduce reliance on processed foods and fast food take-out.
Eating the foods that you've always enjoyed is possible, but what they are will dictate the frequency with which you have them and the size of the portion you serve yourself.
At first, this learning can seem overwhelming. Most doctors and dietitians recommend taking it on gradually because it requires you to be alert and focused every time you make a decision regarding the foods you eat and the meals you make. The clinically researched ingredients in PHENBLUE diet pills are shown to improve exactly those features – your alertness and focus – so you are better equipped to stay on track throughout the most challenging part of your diet. This makes it easier for you to stick to it and keep it up.
Fitness-Appropriate Exercising
The next challenge many dieters face involves improvements to activity levels. Most North Americans simply don't move around enough. Even if you add up all the tiny activities you do every day, the odds are that they're not quite where they should be. Therefore, adding to your activity level each day requires you to learn what you should do, figure out how to incorporate it into your life and find the energy to motivate yourself to get it done at your best ability each time.
Your personal trainer may create a routine for you at the gym, or perhaps you'll choose to go for a brisk walk or two every day. You might even include some strength training and/or yoga into your efforts. No matter what a dieter chooses, one of the biggest struggles with this effort usually has to do with the drive to get it done and the ability to stave off fatigue to keep up performance for the best possible results.
PHENBLUE supports dieters taking on this new and more active lifestyle. Its ingredients include energy boosters that provide that necessary added boost for both motivation and performance. The added energy can be used to get the dieter up and moving and when the workout begins it can keep going with endurance and maximum performance. Without fatigue in the way, every movement has more potential to bring the individual closer to fitness and weight goals.
Fat Interaction
PHENBLUE diet pills provide additional weight management help through a combination of healthy metabolism support and a patented fat interaction ingredient. This gives dieters confidence from knowing that all their dieting and exercising efforts are going into a body that is running efficiently and that isn't being held back from its own natural fat fighting capacity.
Many PHENBLUE reviews show that this additional confidence often means just as much to dieters as the support they receive in keeping up with their new eating plan and putting everything they've got into their top fat burning workouts.
Why PHENBLUE Diet Pills Are Outstanding for Weight Management Support
PHENBLUE provides a powerful boost of energy. Prescription diet pills like Phentermine Blue also increase energy levels, but they are meant only for obesity patients. For overweight dieters with a BMI of 29.9 or under, an energy boost helps you to take on dieting and exercising efforts that have been recommended by your doctor, but without having to suffer from the overwhelming fatigue that is typically connected with taking those steps, especially when you've cut back on your calories.
For instance, although you will still need to eat less to lower your calories every day, you won't find yourself feeling like you're running out of steam because your energy levels will remain high. Exercising is much easier due to the added energy that these diet pills provide. Beyond that, you will be able to add duration and intensity to your daily fat-burning exercise routine, so every workout you complete will burn off even more calories and fat.
All this is possible without having to suffer from the sometimes-overwhelming severe side effects associated with prescription medications. The Intechra Health weight loss experts were careful to include just enough of each ingredient to ensure PHENBLUE non-prescription diet capsules would offer maximum benefits without severe side effects or any risk of chemical dependency. It is still important to note that dieters sensitive to stimulants may still experience some mild side-effects. Following the directions as they are printed on the bottle will usually prevent this from occurring, but if you have any concerns about the way you experience these pills, speak with your doctor, pharmacist, or contact Intechra Health directly.
I am 17 pounds closer to my goal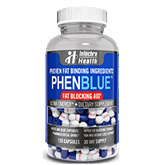 After 1 month taking these pills I have been able to lose 17 pounds and I am really surprised they worked that well. Phenblue seems to be a really good diet pill, even if you can buy it without a prescription. So I am 17 pounds closer to my goal, which is to 126 pounds before my 35th birthday. Thanks.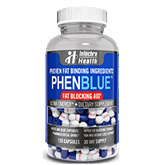 5 stars for phenblue :)- this sh** is legit.
hey man. you asked for a review so here it is. 5 stars for phenblue :)- this sh** is legit. i've tried other stuff (i won't mention the names, but some good, some not good) and this falls in the good category. there are some powerful stuff in these pills that can help you get in really good shape if you want to. i mean you still gotta do the work, but the pills help too. so i give it my approval, keep it up.
---