TRIMTHIN X700
Diet Pill Reviews

Hits: 10074
Rating:

( 11 Ratings )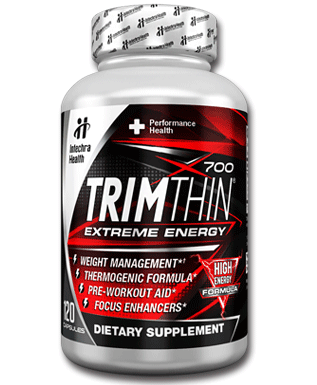 Although the day has not yet arrived in which a simple pill can magically cause excess body fat to disappear without any additional effort by the dieter, TRIMTHIN X700® DIET PILLS can help support your efforts to achieve a slimmer, fitter you!
Buy TRIMTHIN X700 Online Now - Save up to $105 + Free Shipping
TrimThin X700 Tablets
$

29
60ct - 1 Month
No Savings
TrimThin X700 Tablets
$

55
120ct - 2 Months
Save $3
TrimThin X700 Tablets
$

79
180ct - 3 Months
Save $8
FREE SHIPPING
TrimThin X700 Tablets
$

149
360ct - 6 Months
Save $25
FREE SHIPPING!
What TRIMTHIN X700 Reviews Say
Our customers have chosen TRIMTHIN X700 as one of the best-made weight management support supplements of all time. Its unique formula contains powerful energy boosters and performance enhancers to help you make the most out of every workout. While this doesn't simply cause fat to melt away on its own, it makes it possible for dieters to put in extra time and effort during exercise without having to struggle with unbearable fatigue. By exercising for a longer duration and/or with greater intensity, more calories and fat are burned, helping you attain the leaner body you want so badly!
TRIMTHIN X700 - Workout Performance Supplements That Work! – Read TRIMTHIN Reviews
Don't make yourself endure another day of low energy due to dieting. TRIMTHIN X700 DIET CAPSULES not only provide supercharged energy, they also work to amplify your ability to focus, so you can make better decisions and really hone your ability to do what it takes to bring your body to the next level. When you have the energy and focus from TRIMTHIN X700 to push yourself during workouts, you can overcome any challenge to achieve your desired results.
TRIMTHIN X700 Success Stories

Jill

these trimthin capsules are a 5 out of 5 supplement
these trimthin tablets are a 5 out of 5 supplement. i have told everyone who will listen :) about them cause they have really helped me. i have been struggling to lose weight for years. i would lose a few pounds and then the next week i would gain it back. most of it was that i wasn't able to stop snacking, that has to be the hardest thing for me. when i started taking trimthin i immediately noticed that i wasn't very interested in food at all. this lasted all day and i was able to keep away from snack foods and make better choices. so i lost a few pounds in the first week of taking trimthin but it hasn't stopped there. every week i've been down, some weeks more than others, but i am soooo happy to be moving in one direction. i will take these pills for as long as they work, which i'm hoping is a really long time cause i love em.
Andrea

the effects lasted all morning and all afternoon.
I found these diet pills [TrimThin] on the internet and I the marketing made them look so good so I ordered. After you contacted me for a review I was happy to send one to you because I think your product is really good and I hope more people will give it a try. My favorite thing about these pills was that the effects lasted all morning and all afternoon. Other diet pills I've tried just worked for a couple of hours before the effects wore out, but not these. I think you are really on to something and I am glad I was one of the first to get to try them.
Joy

TrimThin was a really well-rounded diet pill.
This was the fourth time I have bought diet pills and these were by far the most effective ones I have tried. Unlike the other products I've tried, two of which didn't do anything at all, TrimThin was a really well-rounded diet pill. After taking the first one in the morning I was not interested in food or snacking during the day. That was the best thing about them I think. I also felt like I had more energy and maybe I even felt happier, if that's even possible. I am happy because I'm losing weight and that is all that matters.
David

i am down 20 pounds
i saw these online and didn't give them much chance of being any good, but i really need to lose some weight so i bought them. when i opened the bottle i saw these little blue pills and i wasn't sure what to expect. i was eager to try them so i popped one in my mouth but it was around 4pm and i regretted that because i had trouble sleeping that night. the next day i started taking them like the bottle suggested and things have been going smoothly ever since. after 5 weeks taking these pills [TrimThin ] i am down 20 pounds. i didn't even think that could be possible without starving myself. i would recommend them.
Pete

I felt pretty good while taking Trimthin
I saw an ad that said Trimthin acts like phentermine, but I have taken Phentermine and it's not exactly the same, both good and bad. I lost more weight when taking phentermine and my appetite was gone. Trimthin also suppressed appetite, but it wasn't as powerful. What I did like was that I felt pretty good while taking Trimthin, but when I was taking phentermine I always felt jittery and sickly. I'm not sure which one I prefer - they are both good diet pills.
Margie

I lost 6 pounds in 2 weeks
My friends and I have been shopping around for a diet pill to try. We chose this one because its new and the slow release formula was something we wanted to try. Three of us bought it (we shared a 3 mo order) and started our diets the next day. Although we all ate different things, and some of us at better than others (i gotta have my chocolate) we all lost weight. I lost 6 pounds in 2 weeks and my friend Jennie was the biggest loser at 11 pounds. None of us had any complaints other than not ordering enough. We are hoping to lose 50 pounds in total by the end of month two. Wish us luck!
TRIMTHIN X700 Scientifically Researched Ingredients
The ingredients that make up this extreme performance capsule are all well known in the non-prescription fitness industry and have been clinically studied to ensure they are understood completely. This proprietary formula includes the following:
Green Tea Leaf Extract
Green Coffee Bean Extract
CLA (Conjugated Linoleic Acid)
Caffeine
Xanthinol Nicotinate
Cnidium Monnieri Fruit Powder
Eleuthero (Siberian Ginseng) Root Extract
When combined, these TRIMTHIN X700 ingredients provide benefits that dieters find highly appealing.
TRIMTHIN Contains ONLY Science Based Ingredients for Weight Management Support - Read More HERE
How TRIMTHIN X700 Helps You Reach Your Fitness Goals
OVERCOME FITNESS STRUGGLES WITH TRIMTHIN X700 CAPSULES

Manage Your Weight and Achieve a Toned Figure - Get TRIMTHIN X700!
The TRIMTHIN® proprietary formula was meticulously formulated by the weight loss experts at Intechra Health Inc. This team used only the highest quality ingredients that have each been rigorously studied in order to understand them completely. The outcome of this effort was not only a non-prescription diet pill alternative to the leading prescription drugs for overweight dieters who aren't seeking obesity treatment, but one that does so without such severe side-effects or chemical dependency risks.
This makes the TRIMTHIN® capsule the perfect workout companion. By increasing energy, you will be powering through workouts with more stamina and endurance, so you can burn more calories through longer, more intense exercise. This enhanced performance can lead to a healthier weight and slimmer appearance when combined with a reduced-calorie diet plan based on your weight management goals. Once your fitness goals have been reached, TRIMTHIN can help you maintain your progress for as long as desired.
Buy Trimthin Online Now - Save up to $105 + Free Shipping!!
These capsules have been mindfully formulated based on scientific evidence in order to provide dieters with the energy needed to conquer their diet and exercise plans once and for all. Experience the pure energy and focus of TRIMTHIN X700 and find out for yourself what so many others have already discovered...these diet pills really can help you reach your goals!
Remember, just like any other weight management support supplement, this is no magic pill. Healthy lifestyle changes must be made in order to achieve the results you're after. Get moving and start achieving with TRIMTHIN X700!
---