Buy Diet Pills
Weight Loss Products

Hits: 5087
Rating:

( 9 Ratings )
Buy The Best Diet Pills Online Safe & Secure at Weight Loss Center!
FENFAST® 375
If you love the idea of having a slimmer and healthier body, but don't like the journey to get there, then FENFAST 375 may be able to make things easier for you. By providing you with the energy and focus needed to be more active, this non-prescription diet pill can offer a considerable advantage that you've never had before.
Why Buy FENFAST 375 over the Competition?
Top-Rated Phentermine Alternative

No Prescription Required to Buy

USA Based Manufacturer and Support

Propriety Formulated Premium Tablet

Powerful Boost of Energy to Help Keep You Active

Overcome Your Dieting Struggles with Better Focus*

Not an Herb-Based Formula - Zero Hyped Ingredients*

FDA Compliant Manufacturer Ensures Quality

30-Day 100% Satisfaction Guarantee

Safe and Secure Online Ordering - Buy Now!
Each of these diet tablets has been developed to offer maximum weight management support without the need for a prescription. It is the result of considerable research and investigation into the highest quality, science-based ingredients. Each white and blue speck FENFAST 375 tablet contains a proprietary formula of 1,3,7-Trimethylxanthine, β-Phenylethylamine HCl, L-Theanine and Hordenine HCl.
FENFAST 375 is the #1 Top Rated Diet Pill of the Year!

FENFAST 375

Price

Savings

Add to Cart

FENFAST Tablets
120ct - 1 Month

$49

no savings

FENFAST Tablets
240ct - 2 Months

$89

Save $8

FENFAST Tablets
360ct - 3 Months

FREE
SHIPPING!
$129

Save $18

FENFAST Tablets
720ct - 6 Months

FREE
SHIPPING!
$229

Save $55
Read More About How FenFast 375 Tablets Work...
FENFAST 375 Customer Success Stories

Yolanda

I lost a total of 37.5 pounds in three months!
Diets have always been very frustrating for me. At first I lose weight, but then it levels off and losing more seems impossible. Three months ago I bought these diet pill [fenfast] to take along with a diet low in carbs and I was really happy with the results. I started losing weight from day one and didn't stop for three months. I lost a total of 37.5 pounds in three months!
Ella

My mother and I bought FenFast
My mother and I bought FenFast and we both felt that this was an excellent product. It reduced both of our appetites and we were able to eat much less during the day. Even without a lot of exercise we both still lost weight.
Joan

I ordered fenfast and have lost 17 pounds in a month
During pregnancy I gained over 30 pounds and have been struggling to lose it ever since. Now, with my hands full with a baby to care for, dieting and exercise are much harder to do properly. I ordered [fenfast] and have lost 17 pounds in a month. The results are noticable and I plan on continuing taking it until I reach the weight I was at before I became pregnant.
Phil

I've been taking it for a month while going
I wanted to reach my goal weight of 200lbs for my 40th birthday. I had six months to lose 50lbs and only lost 15lbs in the first three months with exercise and dieting. For the last three months I have been taking Fenfast 375mg as part of my weight loss program. By my birthday I had surpassed my goal and weight 197lbs - that's a 38lb drop in 3 months. It was the best birthday present I could have given myself.

Lelani

I have lost 14 pounds and have so much energy
I have been taking these pills [fenfast] for a month now, as well as going to the gym and watching my diet. I have lost 14 pounds and have so much energy. This is an excellent diet pill - it works for me!
Jeremy

It gave my metabolism the boost it needed
I work out hard at the gym, but I have some body fat that is in the way of getting definition in my muscles. I started taking Fenfast and right away I began to lose weight faster. It gave my metabolism the boost it needed. I'm on my way to a six pack for the first time.
June

I have been taking it for one month now and have lost 18.6 pounds
My husband surprised me with a second honeymoon to Hawaii and I wanted to look as good as possible in my bikinis. I ordered fenfast 375 because I read that it was made with studied ingredients, but that are safe and without all the side-effects. I have been taking it for one month now and have lost 18.6 pounds. I have one more month to go before our trip, but I'm confident that my body will be bikini worthy by the time we go cause I just ordered another months supply.
Renee

From the first day my appetite is almost gone
I have been struggling with my weight since I was a teenager. Snacking between meals and overeating during meals are the hardest things to stop doing. I ordered Fenfast two weeks ago and wanted to let you know how it's working. From the first day my appetite is almost gone. I don't feel sick or have any side-effects, I'm simply not that hungry. I have been able to stop snacking between meals and only need to eat small portions to feel full. I really can't believe that a non-prescription pill could work so well. I can't wait to write you again to tell you about all the weight I've lost. I'm going to be a huge success story!
*FENFAST 375 is helping former phentermine users reach their goals with advanced weight management support.
Read More Reviews & Buy FENFAST 375 Online...
Intechra Health, the US company who developed and manufactures this product, has made sure that when you take FENFAST 375 you'll be better equipped to overcome the struggles you have previously faced while dieting. By enabling you to achieve activity level goals through enhanced energy, it is easier to burn more calories through daily exercise. When additional exercise is combined with a nutritionist recommended diet plan customized for your own caloric needs, you will be able to lose weight. These lifestyle changes can drastically reduce your chances of developing diabetes, cancer, high blood pressure, stroke and heart disease. What are you waiting for?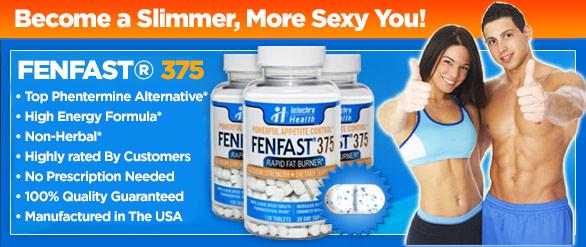 ---
PHENBLUE®
PHENBLUE non-prescription diet capsules are considered to be one of the best alternatives currently available for some of the most commonly prescribed prescription diet drugs in the Phentermine family, including Adipex and Phentermine Blue.
If you have ever tried those medications, you will know that they are prescription weight loss drugs that can help you to shed excess weight much more quickly and easily. They also provide increased energy so that you are able to exercise more without too much struggle. This is precisely what PHENBLUE was also scientifically designed to achieve. This diet pill has been formulated to offer incredible weight management support without a prescription or the riskier side-effects associated with amphetamines.
There are many reasons to choose PHENBLUE capsules over other options out there, some of which include the following:
30-day 100% satisfaction guarantee for quality assurance
Support to overcome challenging diet struggles
Increased energy levels to conquer fatigue for increased activity
Enhanced focus for staying on track to reach your goals
The highest quality ingredients which have each been scientifically studied
An American product manufactured under strict safety and quality standards
PHENBLUE Clear and Blue Capsules - Powerfully Formulated Alternative to Prescription Diet Pills

PHENBLUE Capsules

Price

Savings

Add to Cart

PHENBLUE Capsules
60ct - 1 Month
$34

no savings

PHENBLUE Capsules
120ct - 2 Months
$62

Save $4

PHENBLUE Capsules
180ct - 3 Months
FREE
SHIPPING!
$89

Save $13

PHENBLUE Capsules
360ct - 6 Months
FREE
SHIPPING!
$159

Save $45
PhenBlue's proprietary formula is made up of NeOpuntia®, 1,3,7-Trimethylxanthine (caffeine anhydrous), Organic Matcha Green Tea Leaf Powder, and Theobromine. The outcome is weight management support unlike anything that you have had before. By promoting maximum energy levels and enhancing your ability to focus on developing healthier habits, you can make the lifestyle changes needed to reach a healthier weight.
Need Something More to Tackle Your Diet Plan? PHENBLUE Capsules Can Get You There - Read More...
PHENBLUE Customer Success Stories

Judy

I have lost 22 pounds and the scale is still dropping
The Phenblue pills have decreased my appetite and given me more energy during the day. This diet pill is really easy to take. I have had no side effects and have been taking it for three months. I have lost 22 pounds and the scale is still dropping.
Maggie

my BF lost 16 pounds in a month
My boyfriend and I ordered these pills phenblue to try. I didn't lose very much weight, but my BF lost 16 pounds in a month. We were both dieting and exercising, but he was exercising much more than I was. Maybe that was the difference.
Rich

Phenblue is the most effective
I've tried other diet pills before, but Phenblue is the most effective. It reduces your appetite and give you a slight boost in energy. Compared to other pills out there that are way more expensive and don't work, this one is my first choice.

Sheri

PhenBlue helped me follow my diet
I was looking for a supplement to take along with dieting and exercising and bought Phenblue to try. I was really please with how it suppressed my hunger and how I didn't crave food as much. It helped me follow my diet and I've been losing weight consistently.
Nicole

Phenblue has no side effects
I didn't have very much weight to lose so I bought phenblue because it said it doesn't have any risky side effects. I have been taking it for two months now and have lost some stubborn pounds and I feel great. Phenblue has no side effects, at least none that I have experienced, but it's still a decent diet pill.
Read More Customer Reviews and Discover More PhenBlue Success Stories - Click HERE!
---
TRIMTHIN® X700
Even if you've tried many diet pills before, TRIMTHIN X700 is unlike anything else you have ever experienced.
This non-prescription capsule is able to provide you with benefits that will help you to overcome the single most common struggle associated with getting fit and achieving a lean, sculpted appearance. TRIMTHIN X700 ingredients work together to take your workout performance to new heights, so you can exercise longer and harder than ever before. By increasing physical activity and eating a calorically appropriate diet, you can reveal a slimmer, sexier you! It's time to finally gain the power to incinerate any obstacles associated with fatigue and reach your highest fitness potential.
Some of the benefits of using TRIMTHIN X700 sport supplement to support your diet and exercise efforts include...
An improved focus to precisely hone in on your goals and what it takes to make them happen.
A supercharged enery level to help you to burn fat and calories through exercise like never before.
An increased ability to power through workouts with greater intensity and duration.
A 30 day 100% customer satisfaction guarantee or your money back.
A capsule manufactured in a USA, FDA regulated facility for quality control.
Even the most discouraged individuals can take TRIMTHIN X700 to gain an advantage for amazing fitness success!

TRIMTHIN X700 Capsules

Price

Savings

Add to Cart

TRIMTHIN Tablets
60ct - 1 Month
$39

no savings

TRIMTHIN Tablets
120ct - 2 Months
$69

Save $9

TRIMTHIN Tablets
180ct - 3 Months
FREE
SHIPPING!
$99

Save $18

TRIMTHIN Tablets
360ct - 6 Months
FREE
SHIPPING!
$169

Save $65
TRIMTHIN Gives You the Fitness Support You Need - Learn More HERE...
TRIMTHIN X700 Customer Success Stories

Paul

What an amazing product!
I have not stopped raving about Trimthin to my family and friends. These tablets are so simple to take - one in the morning and one five hours later and what you get is a whole day of no hunger and TONS of energy. I lost 13 pounds in my first month using it and its effects haven't slowed down yet. What an amazing product, it is worth every penny.
Carolyn

Down 4 Pounds! I can't recommend trimthin enough.
I was searching for a slow release diet pill and this is the only one I could find that looked worthwhile. I was terrified to order online cause i've heared of so many scams, but I called customer service and they were able to take my order over the phone. It took about 5 days for my order to be shipped to me (it was a stressful few days wondering if it would show up). When I got the package i was so exited to see the pills i tore into the bottle and they looked great, just like prescription pills do (I read the ingredients twice to make sure I got the right stuff). I took one tablet the next morning and woooooo. I loved the feeling it gave me. more energy and no hunger at all. Today it is one week since I started taking them and I weighed myself. Down 4 Pounds! I can't recommend trimthin enough. Hopefully lots of people buy so that this product stays around a long time.
Gloria

what I like is that it gives a gradual "lift"
I am glad to give you some feedback about Trim Thin and maybe help some others like myself. I am 55 years old and have struggled with my weight for as long as I can remember. I have tried other products you can buy in grocery stores, like PGX, but they didn't work very well and had some unpleasant side effects. One of my younger co-workers suggested I this product called Trim Thin. When I found out I could only buy it online I didn't want to bother at first, but she helped me with it and assured me it was OK. Sure enough I got my package a few days later. I have beein taking it now for almost three weeks. Although I have only lost a few pounds, what I like is that it gives a gradual "lift" and I feel quite good during the day. I have managed to somewhat control snacking and eat more reasonably. I guess if I would suggest any change it would be that perhaps only one pill is good enough each day, not two. I often find I don't need the second one. Also, I had a bit of a dry mouth for the first few days. Overall though I have had a good experience taking Trim Thin. I think I can lose more weight if I get out for a walk in the evenings. That is my next goal once the weather improves. God Bless.
Aynsley

total weight loss = 7lb in 2 weeks
nice! total weight loss = 7lb in 2 weeks. this really works. really. i've told all my girlfriends about it too and their gonna order some. my belly is lookin trim and i think my thighs are smaller too. i dont know whats in this stuff [TrimThin] but it makes me feel awesome. my friends are starting to wonder.
Debbie

Trimthin SR is exactly what I was looking for.
Trimthin X700 is exactly what I was looking for. I already try to eat well and I work out a few times a week, but I have'nt been enjoying it. I have been stuck at 176 pounds (and I'm 5'5") for so long and I had given up all hope of seeing 130 pounds again, but now I think I have a chance. I have lost almost 10 pounds this past month alone. The biggest change has been that I'm not hungry during the day, I eat way less, I have more energy at the end of the day so I can workout for longer. I haven't experienced any bad effects from taking TrimThin and I would recommend this product to anyone looking for a diet supplement that works.
Read More TRIMTHIN Customer Reviews and Find Out How It Can Help You Live Fit!

---