FENFAST 375
Diet Pill Reviews

Hits: 16663
Rating:

( 67 Ratings )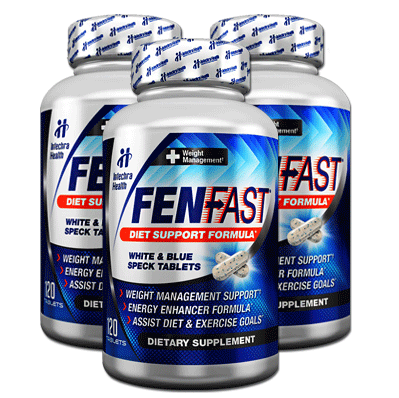 FENFAST® 375 TABLETS are clinically formulated to support your healthy weight loss strategy, providing a powerful over-the-counter alternative to prescription diet pills like Adipex and Phentermine 37.5 if they are not right for you. Even if you have never tried diet pills before, FENFAST 375 will give you a helpful tool with an enormous impact as you work to reach your goal.
---
Buy FENFAST 375 - The #1 Rated Weight Management Formula
120ct - 1 Month
No Savings
240ct - 2 Months
Save $9
FENFAST® 375 Tablets
$

129
360ct - 3 Months
Save $18
FREE SHIPPING
FENFAST® 375 Tablets
$

229
720ct - 6 Months
Save $65
FREE SHIPPING!
FENFAST 375 Powerful OTC Weight Management Alternative to Phentermine & Adipex
Straight from the weight loss experts at Intechra Health Inc. to you, FENFAST 375 addresses the key issues that make fat loss difficult in the first place. Its high-quality formulation of only clinically researched ingredients supports improved energy and alertness, which you can use to push yourself harder during workouts, motivate yourself to keep up with your healthy, nutritious diet, and simply feel focused as you work hard to burn fat and lose weight. FENFAST 375 was designed to help you to overcome your top challenges throughout your healthy weight loss journey.

Buy Fenfast 375 Diet Pills Online Now and Save $45 + Free Shipping!
Do you wish you could consistently put more into your dieting efforts? FENFAST 375 WHITE WITH BLUE SPECK TABLETS help to make that possible. Designed for use as a top Adipex and Phentermine alternative for overweight dieters, FENFAST 375 provides highly advantageous benefits, while helping you to sidestep some of the drawbacks of dieting that could otherwise get in your way.
FENFAST 375 Reviews reveal FAST & NOTICEABLE
benefits you can FEEL!
High-Quality FENFAST 375 Ingredients
After extensive research and meticulously careful ingredients balancing, the FENFAST 375 was created. Every one of the FENFAST 375 ingredients that was selected based on clinical study for effects and benefits. This way, dieters can be certain they are using a product containing high quality substances known for impressive advantages.
Among the FENFAST 375 ingredients within the proprietary formulation are:
L-Phenylalanine
Caffeine
L-Theanine
Hordenine HCl
Each of these was selected from among hundreds of different options, due to their combined ability to support dieters following a healthy weight loss strategy. This has caused these pills to become one of the top most popular Phentermine and Adipex alternatives legally available. Unlike those prescription diet drugs, FENFAST 375 is a non-prescription pill.
Furthermore, it can be used throughout the length of your weight management strategy, supporting a dieter without having to take breaks in order to continue using it. The same cannot be said for obesity patients using Adipex. Even better, all this is available without placing yourself at risk of the powerful or even dangerous side effects – and risk of chemical dependencies – that are linked with the use of Phentermine and other prescription diet pills.
How FENFAST 375 Ingredients Work
When it comes to losing weight quickly and easily, many dieters find that non-prescription pills, such as the FENFAST 375 tablet, provide precisely the type of support they need to keep up with their healthy diet and exercise plans to get them there. This added assistance can help them to overcome those struggles that were holding them back along the way. However, before you take any diet pill, it is recommended that you take two very important steps.
The first is to speak with your doctor so that you know exactly how much weight you need to lose, as well as what efforts should complement the use of the product. That way, you can achieve the best possible results. The second is to investigate the ingredients within any diet pill you have decided to take. In this way, you will know exactly how the product works and what you can expect from its use. In the case of FENFAST 375, the pills were developed and are manufactured by an American company called Intechra Health, and the official website discloses all the active ingredients within the proprietary formulation. This gives dieters the opportunity to perform just this type of investigation.
After all, the weight loss experts who designed the FENFAST® 375 tablet used a great deal of time and effort researching the top substances for the best possible non-prescription formula. Every one of the ingredients in this tablet have been scientifically studied for their effects and benefits. This has made this Adipex (Phentermine 37.5mg) alternative possible for dieters with a BMI of 30 or less and who want support to keep up their weight control strategies without the risk of severe side effects and chemical dependency.
The FENFAST 375 tablets each include the following ingredients
L-Phenylalanine is well recognized and highly studied ingredient that is known for its use in high quality weight management supplements. It is an essential amino acid. Research has determined that the release of cholecystokinin (CCK) from the presence of L-Phenylalanine through supplementation naturally causes dieters to reduce their food consumption in a significant way. For someone trying to lose weight, naturally reduced eating could mean that they would be able to keep up their restricted calorie diet without facing as many struggles.
Caffeine has also been extensively studied and is one of the best-known ingredients in the over the counter weight loss industry. It is recognized for its ability to raise energy levels and to boost alertness at the same time. These are both highly desirable features for weight management. More energy can mean a better performance during workouts and, when combined with greater alertness, it can support greater motivation to keep up with daily eating and exercising requirements.
Hordenine HCl was included as a result of research that showed it complements caffeine for better energy enhancement. A dieter could use this added stable energy to ensures he or she doesn't feel tempted to give in to feelings of fatigue.
Finally, L-Theanine was added to the FENFAST 375 formula because of the study results indicating that it could help users to overcome mental fatigue. For dieters who often struggle with having to face food prep and other healthy lifestyle habits after a long and busy day, the added alertness and reduced mental fatigue could provide a considerable advantage.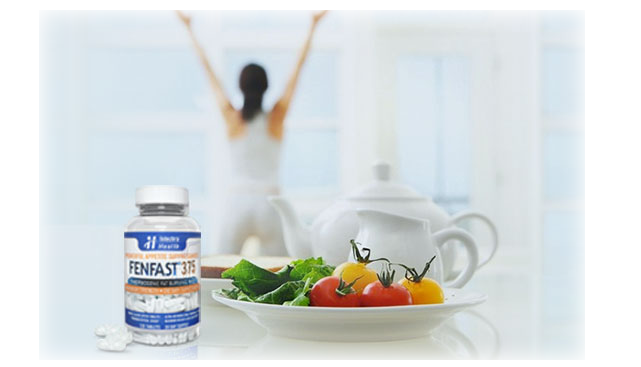 The FENFAST 375 Formula Supports Your Weight Loss Efforts
The above combination of ingredients makes it easy to see why FENFAST 375 reviews reveal how it has become such a rapid favorite among dieters, particularly those who are overweight and seeking an alternative to prescription obesity diet drugs, but that are made only with clinically researched ingredients.

BUY FENFAST 375 DIET PILLS - SAFE & SECURE - FREE SHIPPING 3 MONTHS +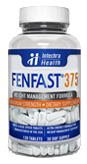 There's hope for me now.
I bought these pills because I read online that they are a substitute for phentermine. My doctor won't prescribe phentermine to me anyorme so I decided to try Fenfast. Unlike phentermine, that gave me a dry mouth and fluttering in my heart, this stuff worked really well, but NO side effects. I was a little jittery the first couple of days, but that stopped and now they only feel great. I am back to buy a couple more months worth at least. There's hope for me now.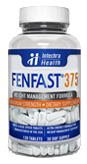 With these two little pills each day I have felt so much better
This was the second time trying a diet pill. I was really nervous about ordering it. I had heard about so many scams online. My order came within a few days and I thought that was a good sign. I didn't expect to like it - I was expecting to get the jitters like I had read about for other diet pills. This one [FenFast] didn't do that tho. I take one in the morning before breakfast and then another at lunch. With these two little pills each day I have felt so much better, with much more energy. Just wanted to let you know.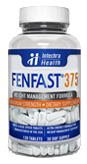 Lots of energy - what a great way to lose weight!
I have been taking fenfast for 3 weeks and I am happy with the results. Even though I'm only eating about 1200 calories a day, I am never hungry and I have lots of energy - what a great way to lose weight. I will recommend this product to anyone who needs to lose weight but struggles with dieting. This product makes it possible to eat less without going crazy or getting dragged down.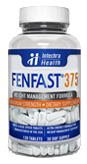 I'm sold! This stuff works like crazy.
You guys have made a killer product. I work out like mad and with the help of Fenfast I am getting lots of definition. No, it didn't help me build muscle, but I don't like those roid products. Fenfast is an awesome fat burner and that's all I wanted. Nice stuff Intechra, keep it going. Any new products coming out soon?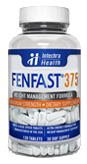 I took it for a month and liked the results.
I took Adipex a couple years ago and have been trying to lose weight ever since. I ordered fenfast 375 because it says it works like adipex and looks like it too. Anyway, I took it for a month and liked the results. I don't htink it was as powerful as adipex, but I still lost weight. I think I liked how it curbed my appetite the most. It made eating less a lot easier. I would recommend it.
---