The PHENBLUE formula contains only the highest-quality, clinically proven weight loss ingredients that are both safe and effective.
Have you been on the lookout for a non-prescription, safe, and effective diet pill that produces the type of benefits you'd only see from prescription diet drugs like Phentermine, but in a safe format? Are you seeking an option in which all of the ingredients within the formulation have been scientifically researched so that their effects and safety are well known throughout the weight loss industry? If you have, then you don't have to look any further than PHENBLUE CAPSULES.
PHENBLUE® Clear & Blue Capsules are one of the most complete weight loss supports available anywhere in the United States. Made with the highest quality nutraceutical ingredients, Phenblue helps you shred away stubborn fat while maintaining muscle and demolishing appetite. This is a PERFECT COMBINATION FOR MAXIMUM WEIGHT LOSS RESULTS!
PHENBLUE CAPSULES Help You Burn Fat While Maintaining Lean Muscle

Take your diet to the next level and experience consistent and noticeable weight loss every week with PHENBLUE WHITE & BLUE CAPSULES. The science driven formula includes the highest quality, maximum strength ingredients that are powerful enough to not only satisfy people who are looking for effective alterantives to prescription diet pills, but make weight loss attainable for anyone who wants it.
Start Losing Weight Now With Phenblue Fat Blocker!
PHENBLUE Capsules

Price

Savings

Add to Cart

Phenblue Capsules
60ct - 1 Month
$58

no savings

Phenblue Capsules
120ct - 2 Months
$99

Save $17

Phenblue Capsules
180ct - 3 Months
FREE
SHIPPING!
$129

Save $45

Phenblue Capsules
360ct - 6 Months
FREE
SHIPPING!
$229

Save $119
What does this mean to you as a dieter? Does it meant that your excess belly fat will simply disappear by popping a pill? Of course not. Read these amazing Success Stories to see how PhenBlue worked for these customers.
PhenBlue Success Stories

Patrice

5 stars for phenblue :)- this sh** is legit.
hey man. you asked for a review so here it is. 5 stars for phenblue :)- this sh** is legit. i've tried other stuff (i won't mention the names, but some good, some not good) and this falls in the good category. there are some powerful stuff in these pills that can help you get in really good shape if you want to. i mean you still gotta do the work, but the pills help too. so i give it my approval, keep it up.
Liz

I am 17 pounds closer to my goal
After 1 month taking these pills I have been able to lose 17 pounds and I am really surprised they worked that well. Phenblue seems to be a really good diet pill, even if you can buy it without a prescription. So I am 17 pounds closer to my goal, which is to 126 pounds before my 35th birthday. Thanks.
Karin

I lost 5 pounds in the first week
I was interested in phenblue diet pills because I couldn't get a prescirption for Phentermine and I was tired of fighting my doctor about it. I've never tried phentermine so I can't way how phenblue compares, but I lost 5 pounds in the first week of taking it. I've lost a few pounds every week since then. I think I would lose more if I exercised more and could stop snacking at night. I wish the appetite control lasted all the way into the night too. That would be helpful.

Heath

In one month I dropped 22 pounds
My girlfriend was taking these pills and she lost a bunch of weight. She kept nagging at me to try them so I did and I am happy I did. In one month I dropped 22 pounds almost with no effort at all. My girlfriend is pissed cause she has to work out and diet all the time. I don't know why they worked so well for me, but I'm glad they did. Now she wants me to order more... gladly.
Karly

I really like how these diet pills worked for me.
I can't say enough good things about Phenblue. I really like how these diet pills worked for me. I had to actually remind myself to eat meals during the day and even though I was eating fewer calories I still had lots of energy. My recommendation to people who take this would be to take it about 30 minutes before your afternoon workout if you can. The boost in energy makes your workout a lot more effective.
Lindsay

I took it for a month and liked the results.
I took Adipex a couple years ago and have been trying to lose weight ever since. I ordered fenfast 375 because it says it works like adipex and looks like it too. Anyway, I took it for a month and liked the results. I don't htink it was as powerful as adipex, but I still lost weight. I think I liked how it curbed my appetite the most. It made eating less a lot easier. I would recommend it.
How PhenBlue Aids Weight Loss
| | |
| --- | --- |
| | When it all comes down to it, all of the advantages of using PhenBlue capsules, such as faster fat burning, are all the result of the winning proprietary formulation that was engineered by the scientists at Intechra Health Inc. These American made diet pills each contain a careful selection of some of the safest and most effective ingredients that are known to the nonprescription weight loss industry. |
Learn More About PhenBlue and How It Can Help You Lose Weight >> Click HERE
When combined, the PhenBlue ingredients are able to produce the same type of benefits that are available from the leading prescription diet capsules, such as Phentermine Blue. In fact, the team at Intechra Health were so careful to replicate all of the positive elements of that drug, that they even produced a capsule that looks somewhat similar to its alternative as a final nod to their attention to detail.
The proprietary PHENBLUE® formula consist of the following ingredients:
Caffeine Anhydrous,
5-Hydroxytryptophan,
7-Keto-Dehydroepiandrosterone Acetate,
Epigallocatechin 3-Gallate,
Forskolin
To understand why this combination was able to achieve the goals of the scientists for creating the best Phentermine Blue alternative, in the form of PhenBlue, it is best to look at each of these ingredients individually.
The first is caffeine anhydrous. This is a stimulant ingredient also known as 1,3,7-trimethylxanthine, that has been extensively studied in the weight loss and medical industries, so that its benefits and safety are well known. For dieters, the advantages that it provides include appetite suppression, faster fat burning from an increased metabolic rate, higher energy levels, and improved concentration and alertness.
Next is 5-Hydroxytryptophan, which is also known as 5-HTP. It has also undergone extensive study and is used both within high quality formulations and on its own, due to its many positive benefits. For weight loss, these include slower eating and lower food consumption so that dieters are inclined to eat less for lower calorie consumption, without the hunger pangs.
The ingredient called 7-Keto-Dehydroepiandrosterone Acetate – or 7-Keto – has been studied and is known for its ability to promote thermogenesis. This causes the body temperature to rise, and both fats and calories to be used as the fuel for this reaction.
The antioxidant called Epigallocatechin 3-Gallate – or more often known as EGCG – is the highly studied substance in green tea that has been recognized for its many health benefits. In weight loss efforts, it promotes faster fat burning, so that exercising generates faster weight loss results.
Lastly, Forskolin helps the body to build lean muscle mass, which makes it easier to exercise, and which helps the body to burn fats more quickly because muscles are natural calorie burners.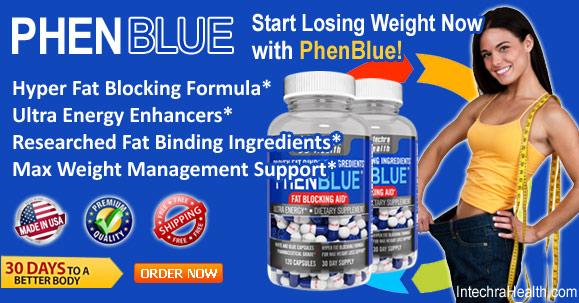 Order PhenBlue Online and Recieve Free Shipping >> Buy Now and Save up tp $105!
How PHENBLUE® Compares to Prescription Diet Pills
PhenBlue provides the same type of powerful weight loss promotion that you'd expect from prescription diet pills like Phentermine Blue. As such, it helps you to take on dieting and exercising efforts that have been recommended by your doctor, but without having to suffer from the struggles that are connected with those steps.
For instance, although you will still need to eat less to lower your calories every day, you won't find yourself feeling like you're "starving" because your appetite is much smaller. Exercising is also much easier due to the added energy that these diet pills provide. Beyond that, every workout you complete will burn off even more calories and fats than they would when unassisted due to the increased metabolism from the effects of PhenBlue.
All of this is possible without ever having to suffer from powerful or dangerous side effects, without worrying about the risk of addiction, or without watching the effects decrease over time due to a tolerance built up by the body. Those are the aspects of prescription drugs that the Intechra Health scientist were careful not to replicate in the PhenBlue non-prescription diet capsule.
Join Weight Loss Center