Obesity Gene Can Contribute to Weight Gain
Hits: 7143
Rating:

( 0 Rating )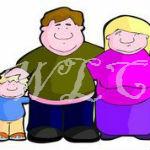 Perhaps you are one of those poor folks who keeps on trying to lose weight to no avail. Maybe you have tried various fad diet plans, followed dangerous workout routines, or even starved yourself completely. At the end of the day, you still find those unwanted pounds hanging around regardless of your hard work and dedication to shedding them. The answer could be that the obesity gene actually contributes to your weight gain.
What Is the Obesity Gene?
Someone who is described as obese is most likely a carrier of the obesity gene. Obesity is the result of a combination of genetic and environmental variables that interact to increase weight gain. The obesity gene is actually nothing more than a polymorphism that occurs in several different genes throughout the DNA code. These polymorphic genes are what comprise the genetic markers that ultimately predispose a person to becoming fatter than average. So basically, the obesity gene is simply the internal catalyst to your weight loss woes.
How Are Genetics Connected to Body Type?
The human genome is still being mapped, but so far there are at least 41 genetic receptor sites that can be linked to obesity, weight gain, and the inability to lose weight effectively. If you happen to be someone who carries an activated obesity gene, then there is a good chance that you will ultimately suffer from excess body weight. On top of that, you will most likely have a hard time getting rid of weight or keeping it off for any lengthy amount of time.
What Can I Do about Excess Weight Gain?
Living with the obesity gene does not have to be a pain in the backside, tummy, and thighs. There are lots of ways that you can get into better shape, improve your appearance, and maintain a healthy weight, and none of those options involve you having to participate in some kind of freak-show diet plan. What you need to do is figure out what makes your metabolism tick despite your genetic faults. Use your body to your advantage; make it work for you because that is its job.
Keep in mind that simply having the obesity gene is no excuse for letting yourself go. Just because you carry the gene does not mean that you cannot stay healthy throughout your entire life. If you are having trouble controlling your weight and you think it may be because of your genetic make-up, talk to your doctor right away.
---