The Connection Between Watching Too Much TV and Weight Gain
Hits: 5400
Rating:

( 0 Rating )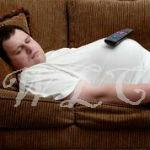 In recent years with the epidemic of childhood obesity alive and well, many health experts have looked at the connection between watching too much TV and weight gain. This may sound like a very obvious connection, but it's even more harmful than you might think. It's something that doesn't just apply to children, as adults are prone to it too. This is a big problem in a culture where a sedentary lifestyle has become commonplace. Though we may preach to our kids that they need to get outside or get active, it all starts with us as adults. We have to be role models and if we want to break the mold here then it starts with cutting back on the TV watching if we want to lose weight.
You may wonder if this is a legitimate health connection and just why watching TV and weight gain are a terrible combination. What health experts find is that children who watch more than two hours of TV per day are more likely to be overweight. This is due in part to two main reasons. First and foremost when you are watching excessive TV each day or spending any time in front of a screen, then you're not being active or exercising. Rather than burning fat through exercise too much time is being spent just sitting and letting TV do the entertaining. The other reason for this connection is that there tends to be much more mindless eating while watching TV. You are also less likely to prepare or eat a healthy meal while you sit in front of the TV.
This Is a Cycle That Must Be Broken In The Here and Now
What you may not realize however about the connection between watching TV and weight gain is that this isn't just about the children. This study and many like it came about initially to look in depth at the childhood obesity epidemic. What was found though through this is that adults who are obese likely developed an unhealthy TV watching habit in their youth. Therefore adults are more prone to be overweight or obese if they have maintained a sedentary lifestyle since childhood. It's therefore important to break the cycle, to get more active as an adult, and to serve as a role model for exercise and a healthy lifestyle for our children.
Sure it may seem obvious that if you don't exercise much that you will be overweight, but the connection is alive and well between watching TV and weight gain. Think of how numb you feel when you are just sitting for hours watching TV, and how you aren't focused on a healthy lifestyle. If this is a pattern then this trend becomes your everyday life. Not only will you have a hard time losing weight, but it can lead to health problems down the road. Limit your TV watching to two hours maximum per day, and make exercise a true priority for you as an adult and for your children as well. That's how to break the cycle and create a healthy and active lifestyle too.
---