National Coffee Day Recipes Under 100 Calories
Healthy Recipes

Hits: 1628
Rating:

( 1 Rating )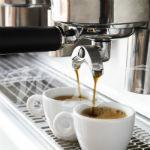 National Coffee Day is the perfect time to indulge in some new recipes that have delicious coffee as an ingredient. But this certainly doesn't mean that you have to go against your diet or risk gaining weight. Instead, stick to the following National Coffee Day recipes, which are all under 100 calories, so you can stay slim while enjoying your caffeinated treat.
Low Calorie National Coffee Day Recipes
Iced Greek Coffee
With just 57 calories per serving, this iced coffee recipe is perfect for National Coffee Day, and it's really easy to make too. All you need is some ice cubes, 1/3 cup of milk that has been chilled (vegans can use their favorite plant-based milk), ¼ cup of cold water, 2 teaspoons of sugar, and 2 teaspoons of instant coffee. Mix all of the ingredients, except for the milk, until the drink is frothy. Then add the milk, and enjoy!
Iced Coffee Made with Coconut Milk
Brew your favorite coffee and make sure that it's iced. Then get some coconut milk (one cup of coconut milk only has about 45 calories), and simply mix that in with your coffee. You'll instantly infuse your cup of Joe with a yummy coconut flavor, as well as healthy fats, and this is a great alternative to using fattening dairy milk. This is definitely one of the easiest National Coffee Day recipes that you'll ever come across, so give it a try and see how you like it.
Mocha and Coconut Coffee
If you like to going to Starbucks to get a Frappuccino but you don't like the price associated with those drinks, or the high amount of calories, you can make a healthier version right at home. For this recipe, all you need is a cup of brewed coffee that's been chilled, 1 teaspoon of cocoa powder that's unsweetened, ½ tablespoon of your favorite honey, ¼ cup of light coconut milk, and a few ice cubes. Take all of your ingredients, put them into a blender, and mix everything until you have a delicious, caffeinated, slushy drink that you can indulge in. You may go over the calorie count, but if you want to add some coconut whipped cream to the top for an extra treat, you can do that too.
With these National Coffee Day recipes, you can definitely indulge in your favorite brew in a whole new way, without ruining your diet, especially if you're taking a product like Phentramin-D to lose weight.
---