Why Competing to Lose Weight Works
Hits: 2265
Rating:

( 0 Rating )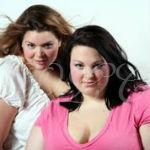 The latest buzz for people aiming to lose weight is regarding challenge games. People enroll in public or closed-group competitions in which obese people gather and try to achieve a weight loss target together. These competitive ways to lose weight have shown better results because of a different reward system linked to it. The incentive in competing to lose weight is higher than in other methods used to achieve weight loss.
Through multiple social experiments, it is made clear that competing to lose weight is far more effective to encourage people for working out and opting for a reduced-calorie diet without a great deal of resistance which was faced earlier when trying to accomplish the same goals.
Competition increases motivation because you no longer have to hit the gym and work for an hour until you are completely exhausted. You have people around who are involved in the same game as you are, with targets to achieve, competitors to beat, and the willingness to get rid of the body fat that's snatching your personality, look, confidence, and self-esteem away from you.
Accountability is another key factor that makes the goal easier for people to achieve. There is someone constantly nudging you to improve your efforts. You have people who know you and your lazy moments, and they care so they may encourage your participation. They will also help you out with problems that are becoming barriers for you. The psychology is simple: humans understand each other better, and together they can make the impossible possible. Secondly, there is someone always checking on you and asking about your progress, assuring that someone is noticing your hard work. This boosts energy and provides instant reward!
Social pressure convinces people to get out of their beds and run. This happens because you don't want to disappoint someone waiting for you to join him or her for a run. Even if this doesn't motivate, it provides enough willpower for you to get moving. The machines at the gym won't be disappointed if you won't show because they don't feel anything, but your fellow participants have hearts. In terms of negative reinforcement, you don't want to get the title of "loser' because you are unable to lose weight, do you?
Financial incentive is a part of most challenges because no one wants to part ways with money. You will do anything to save your hard-earned pennies. The typical rule is deduction of a certain amount automatically from your bank account for some negative purpose. For instance, you will be donating to a political organization you don't support. This is an added advantage as most people will be fine with donating money to groups and organizations they love. The opposite is included in the challenge so that it affects the participants and boosts their willingness to work toward the goal—because if they don't, they will have to pay the price.
Even though the price for an unhealthy and unfit body is greater than what is deducted in the challenge, we are sometimes irrational and emotional beings, so competing to lose weight works effectively.
---