Research Proves Losing Weight at Any Age Improves Cardiovascular Health
Hits: 3765
Rating:

( 0 Rating )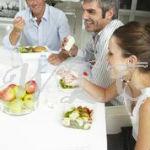 Being in top physical shape is a favorable condition for everyone regardless of their age. It is not only possible but also quite important to stay fit throughout the years. Recent research proves that losing weight at any age actually improves cardiovascular health. We should never wait until it is too late to think about the health of our hearts. Working out and being physically active, even early in life, can help you stay healthy for longer and enjoy the life you have built.
Losing Weight as a Child
Dealing with an overweight or obese child is a delicate and difficult situation that can most likely be avoided altogether. Because a person's cardiovascular health is directly tied to his or her Body Mass Index (BMI), a child who is unable to lose weight may ultimately suffer from heart problems later on in life. To give our children the best possible chance, we need to make sure that they are losing excess weight if they have it.
Losing Weight as an Adult
For the same reason that it is important for a child to lose weight, an adult should as well. On top of weight loss being a good idea, most adults often face health concerns that seem to pop up overnight as they get older. Shedding unwanted pounds of fat is important to a person's overall health, but losing weight at any age can drastically improve a person's overall cardiovascular health enough to prevent certain avoidable issues such as heart disease, high blood pressure, and even stroke.
Losing Weight as a Senior
A person's cardiovascular health is important and improvable even during the senior years. Did you know that having excess weight on our bodies can actually decrease our life expectancy because of the strain that is put on our hearts, veins, and arteries? On average, a person who is only moderately obese can expect to die at least three years sooner than if he or she were in better shape. Although losing weight at any age can be extremely beneficial for cardiovascular health, being a senior often means that you are counting your days. Wouldn't you like to experience an extra 1,095 days—or more?
Growing up is never easy, but we can do something about our quality of life as we get older. Working out and being physically active is important for that reason. Your life is literally depending on it.
---