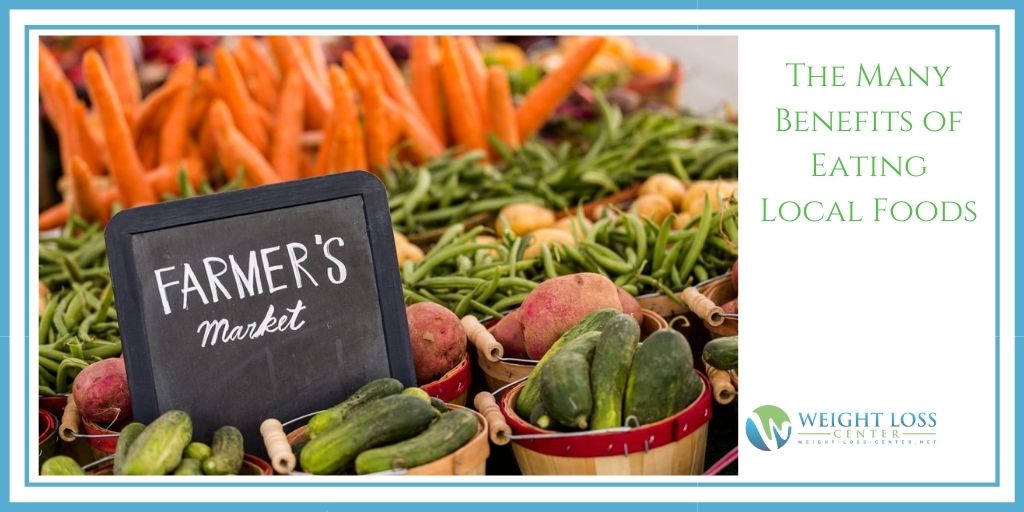 The Many Benefits of Eating Local Foods
Healthy Eating

Hits: 3962
Rating:

( 0 Rating )
If you've ever shopped at a local farmer's market, then you know firsthand what a wonderful experience this can be. You are enjoying the beautiful sights of fresh fruits, vegetables, meats, and all sorts of other products. You just know that you are doing something good for yourself, and therefore you can feel that positive change as you are shopping. There is a wonderful transformation here and this is why so many more people are eating local foods and enjoying a farmer's market as their new shopping venue of choice—it really does work in a number of powerful ways!
Why Eating Local Benefits Everyone
If you live in a bigger city and are amongst the lucky ones, then you probably have some great options available to you. A formal farmer's market means that you have great local produce and options available for you to buy each and every week. Even if you live close enough to a farm, you can pick up some amazing fruits and vegetables that almost force you to eat healthier, but in a wonderful and innovative way. This is a trend that is catching on and therefore more and more people want to enjoy healthy foods that they can get just around the corner, as they see how much better it makes them feel.
Use These Tips Understand the Advantage of Eating Local Food
This is a trend that you can stand behind because it's beneficial in so many wonderful ways. If you want to learn how eating local can benefit your health and even your community, then here are just a few wonderful ways that it makes life better.
You'll Consume More Whole Foods
You are eating healthy and natural foods. You don't have to go on a scavenger hunt to understand the ingredients at the heart of these foods. It's very simple, for what you see is what you get, and therefore it works tremendously. You pick up local fruits, vegetables, meats, foods, and products and they are literally what they appear to be. There are no added foods or ingredients; they just come straight from the earth to your kitchen. You can feel good that they are made up of the very ingredients that you want, and they are healthy and natural foods that stand out above and beyond anything else you can find. These are sound nutritional choices overall!
You Can Choose Organic For the "Dirtiest" Foods
You aren't consuming pesticides or additives and that makes for sound food choices. This is by far one of the biggest reasons why so many people are eating local foods more and more often. Though many pesticides, additives, and preservatives are used to bring other foods to your table, that doesn't happen within your local community. They are grown and picked right from the farm and therefore they come with little to no pesticides. That does mean that you have to enjoy them quickly while they are fresh, but they are as natural as they can possibly get and that's a welcome change.
You are Helping to Support Local Farmers and the Local Economy, Too
This is such a giving and wonderful cycle. You buy these local products, and they benefit you and your health in a number of ways. You are also, at the same time, supporting local farmers and markets that need the business. This all boosts the local economy and helps the community in a growing number of ways. Rather than giving your money to the big-name retailers, you are helping that farmer that needs your business on a local level.
Since your local farmer is a member of your community, this means that the next time they spend their money, there is a greater chance that it will stay within your local economy yet again! This extra level helps to make sure that more local businesses and workers will see the impact of those dollars. There's nothing wrong with large retailers, but there's something great about supporting your neighbors, too.
Your Health Can Benefit from Eating Foods Not Long After They're Picked
When you have all of these wonderful healthy options at your fingertips, you have a greater tendency to eat right. You may lose weight (particularly lose belly fat, if that's your goal) and even help get the right nutrients for your health conditions. Many believe that eating local can help with everything from lowering blood pressure and cholesterol to losing weight naturally. You may even find that something like local honey can help to naturally cure sinus problems. The possibilities are endless and therefore turning to these fresh and natural foods can only make you better!
---