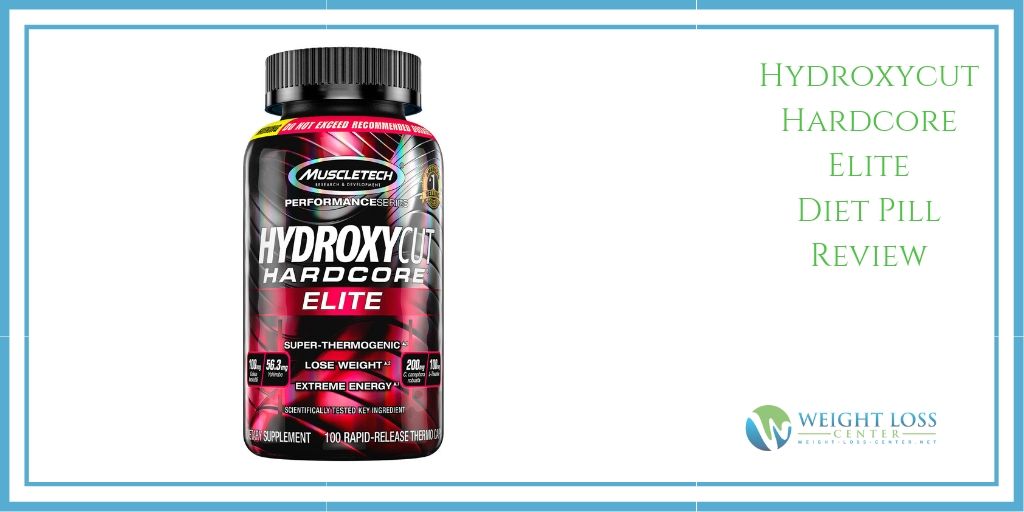 Hydroxycut Hardcore Elite Review
Diet Pill Reviews

Hits: 494
Rating:

( 0 Rating )
With so many diet pills on the market today, it can be tough to figure out which ones are worth trying, and which ones are best avoided. Hydroxycut is one of the more well-known names on the diet pill marketplace, with several products that you can easily purchase over the counter. One of their offerings is Hydroxycut Hardcore Elite.
Is Hydroxycut Hardcore Elite a good diet pill to try, or is it just another product that is more likely to disappoint you? Check out the Hydroxycut Hardcore Elite review below to learn more about it.
What Is Hydroxycut Hardcore Elite?
Hydroxycut Hardcore Elite is a diet pill that claims it can increase your body's ability to burn fat, while also increasing your energy level and improving your focus. In other words, it can help you lose weight when taken accordingly. Its format is rapid-release thermo capsules, and it is formulated for use by both men and women who want extreme energy and hardcore weight loss.
The manufacturer claims that this product contains a key weight loss ingredient known as C. canephora robusta, which will help you achieve the results you want. On top of that, the increased energy and the enhanced focus that you will get from ingredients like caffeine anhydrous in Hydroxycut Hardcore Elite can help you get through intense workouts, while other ingredients provide an ultimate thermogenic experience.
The ingredients in the Hydroxycut Hardcore Elite formula include:
Green coffee extract – This is where you get the C. canephora robusta. Studies have shown that those who take this ingredient while exercising and following a low-calorie diet experience more weight loss than those who take a placebo.
Caffeine anhydrous – This ingredient can give you increased energy and focus
Coleus extract – This ingredient helps boost fat loss
L-theanine – This ingredient can help undo the effects of caffeine so that they aren't so intense
Cocoa extract – This ingredient can also soothe some of the effects of caffeine, while also providing extra energy
Yohimbe extract – This ingredient can help your body burn fat
How to Take Hydroxycut Hardcore Elite
Like so many other diet pills that are available today, you should take Hydroxycut Hardcore Elite at a lower dose when you are first starting to use it. That way, you can assess how your body is responding to the ingredients in this formulation. If you are not feeling well while taking it, you will know that you should continue searching for the diet pill that is right for you. On the other hand, if you tolerate the product well, and it delivers the results that you want, such as increased energy and improved focus, you can continue taking it at a higher dose.
To start, you would take just one capsule one time per day for the first three days of using Hydroxycut Hardcore Elite. Then, you would increase the dose to two capsules two times per day from the fourth day onward.
Whenever you take Hydroxycut Hardcore Elite, be sure to do so at least 30 minutes to one hour prior to having your two main meals, which would be breakfast and lunch.
You should not take more than four capsules in the span of 24 hours.
You also should not take this product within five hours of going to bed because the increased energy that it can provide might get in the way of your ability to sleep.
The manufacturer claims that you should take this product for at least 60 days, while following a healthy diet and exercise routine, in order to get the best results.
Always be sure to read the label thoroughly, and only use the product as directed. If you experience any side effects, contact your doctor to let him or her know, and stop taking these pills.
Does Hydroxycut Hardcore Elite Work?
The manufacturer of Hydroxycut Hardcore Elite can make all of the claims that they want, but to know whether or not this product really works as it promises, you need to read through customer reviews, which you can easily find online.
As can be expected, this diet pill receives a mix of reviews. While some people give it five stars because it worked for them, a good number of people also give it a much lower rating—there are many 1-star ratings—because it didn't work for them.
One reviewer stated that this product actually made them hungrier than normal, rather than suppressing their appetite, so they found it harder to lose weight while they were taking the pills. They also experienced side effects like nervousness and a racing heart.
Other reviewers stated that they were extremely disappointed because this product made them feel nauseous while they were taking it. Also, others experienced various unpleasant side effects, like headaches and stomach problems, as well as an increase in blood pressure.
In addition to those who experienced side effects after taking Hydroxycut Hardcore Elite, there were also reviewers stating that this product didn't do anything at all for them.
Ultimately, there are too many negative reviews to say with any level of certainty that this product works as it claims.
Possible Side Effects Associated with Hydroxycut Hardcore Elite
A host of side effects are possible while taking Hydroxycut Hardcore Elite, simply because it contains such a high amount of caffeine. According to the label, just one serving of this product will give you roughly the same amount of caffeine as three cups of coffee. Side effects from caffeine might include insomnia, nervousness, headaches, tremors, palpitations, nausea, jitteriness, and crashing.
Other ingredients, however, might also lead to side effects. For example, yohimbe might affect your heart rate and blood pressure, so it should be used with caution, especially if you have heart troubles.
What Are the Issues with Hydroxycut Hardcore Elite?
The main problem with Hydroxycut Hardcore Elite is the fact that it doesn't always work as the manufacturer claims. While some people seem to be happy with the results, many others who have tried it experienced side effects, or no effects at all.
Where to Buy Hydroxycut Hardcore Elite Diet Pills
You can easily purchase Hydroxycut Hardcore Elite diet pills online, such as on the Hydroxycut website, as well as on Amazon. You do not need to get a prescription from your doctor to take this diet pill, so you can purchase it over the counter and give it a try if you think that it might be right for you.
Before trying Hydroxycut Hardcore Elite, it's important to keep in mind that it may not work for you, as it hasn't worked for many others who have tried it. If you do find that it doesn't work as expected, there are plenty of other diet pill options available that you can turn to instead.
---