Phentramin-d Tablets vs Adipex
Hits: 13241
Rating:

( 13 Ratings )
Phentramin-D is a revolutionary new product that finally allows people to benefit from the look and results of the popular prescription Adipex (Phentermine 37.5mg) weight loss medication, but without the need for a prescription.
Phentramin-D is a white & blue speck tablet like the Adipex prescription diet pill but it also contains an additional fat burner. So you can actually lose more weight with Phentramin-D!
Essentially, if you are looking for a non-prescription version of Adipex then the new Phentramin-D tablet is just what you've been waiting for.
Phentramin-D tablets offer the benefits of:
Reduce calorie intake
Burn calories and fat 24 hours a day
Prescription Strength Adipex Alternative
Phentramin-d Tablets
Price
Savings
Add to Cart
Phentramin-d Tablets
60ct - 1 month
$67

no discount

Phentramin-d Tablets
120ct - 2 months
$127

Save $7

Phentramin-d Tablets
180ct - 3 months

$157

Save $44

Phentramin-d Tablets
360ct - 6 months

$299

Save $103

Phentramin-d Tablets
540ct - 9 months

$439

Save $164
Read Phentramin-d Tablet Customer Reviews
How Does Phentramin-D Compare to Adipex?
Many people find this type of a drug exceptionally helpful in attempting to get their weight under control. These drugs were not designed simply for cosmetic weight loss but have instead been created in order to allow people who are obese or morbidly obese to help themselves to lose the extra weight, without surgery, while reducing their risk of many obesity-related conditions such as high blood pressure, cardiovascular illness, diabetes, and some cancers.
Like Adipex, the Phentramin-D tablet was not designed to cause you to lose weight all by itself. Instead, it takes away the unpleasant side-effects of a reduced-calorie diet, allowing you to build the right nutritional diet and regular activity lifestyle that is conducive to losing weight and maintaining a goal weight. It is much easier, after all, to eat a reasonable amount when you are not plagued by hunger pants. Furthermore, it is a lot simpler to stay active when you are not dragging from a lack of energy due to a reduction in calories.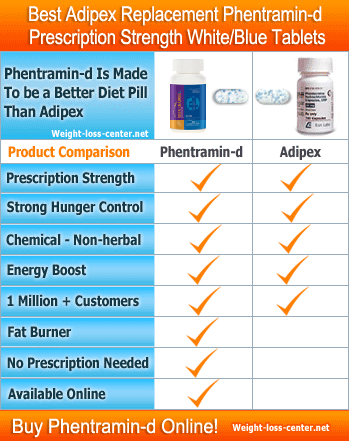 The Phentramin-D tablet has white & blue specks similar to the prescription diet pill, and functions as an appetite suppressant and energy booster. Unlike Adipex, though, it does not lose its efficacy after the first few weeks. Adipex becomes less effective after about four to six weeks as it has been specifically designed as a short-term weight loss solution. The Phentramin-D tablet, on the other hand, is safe to be used as either a short-term or long-term diet drug. Phentramin-d will continue to block your hunger even over an extended period of time.
Read Real Customer Phentramin-D Reviews
---