The Fastest Way to Get 6-Pack Abs
Fitness Articles

Hits: 5003
Rating:

( 0 Rating )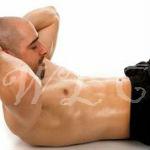 Forget the flab and start working out with a vengeance. You do not have to simply wish for the perfect midsection – that is, if you practice the right techniques. Modern scientists and nutritionists have been working closely together, toiling for long hours to bring the average Joe news he can use. Now, it is easier than ever to get 6-pack abs. The secret is found within the habits you keep on a daily basis.
Caloric Intake
In order for you to get 6-pack abs in the near future, you have to eat the right foods in the right quantities. Regardless of how many fad weight loss or fitness trends there are out there, the fact of the matter always remains: good nutrition beats experimental dieting any day. Those with tight, muscular abdominals tend to eat foods that are extremely rich in proteins, omega-3 fatty acids, and vitamins (especially vitamins E, A, and K). On the plates of 6-pack-having folks you will most likely see plenty of leafy greens, fish, fruit, and unrefined grains. In fact, a diet like this can help actually shed unwanted belly fat and make those ab muscles pop in as little as a couple weeks.
Activity Level
Your level of physical activity plays a huge role in your ability (or inability) to get 6-pack abs. Most people who have abdominal weight or fitness issues have it because of chronic inactivity. In other words, get up and move around a bit more and you should be able to see a quick difference. If you can manage to perform High Intensity Interval Training (HIIT), then do so. This type of strenuous workout may be tough but it can really help you get 6-pack abs in no time. Just be sure you talk to a fitness trainer first before attempting any unfamiliar exercises.
Belly Boosters
Luckily, there are a lot of extra habits you can create to get 6-pack abs as quickly as possible. Adequate sleep is important, as is drinking plenty of water. Some people even go so far as to try dietary supplements and diet pills for that extra boost. If this method seems right for you, consult with your doctor and do some research to find the best option. Keep in mind that everyone's body type is different, so what one person experiences won't necessarily be the same story for you.
---