Are There Links Between Antidepressants and Miscarriage?
Mental Health

Hits: 6721
Rating:

( 0 Rating )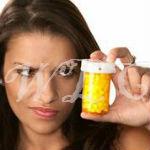 Pregnancy can bring about a range of emotions and worries, and therefore you want to know about something like a possible link between antidepressants and miscarriage. Though you may not want to think about it, this is a real study that is going on currently. The verdict is still out about the potential difficulties that taking an antidepressant may create. Though you may find that stopping use of these pills before pregnancy can help, some health experts will disagree. So what's a mother in this position to do? Are there problems with the antidepressant specifically? This is why any woman who is even considering having a baby and who suffers from depression needs to know what she's getting into.
Some health experts will tell you that there is a very real link between antidepressants and miscarriage. They will say that these pills can hurt the baby and cause the body to be in a less-than-ideal state. They will say that those mothers who take these pills knowingly are harming their unborn baby and thereby make the conditions for a miscarriage more likely. This has been the consensus for a while now, and therefore many women come off of their antidepressants when they are trying to get pregnant. This may help with pregnancy but make their depression symptoms worse, particularly at a time when hormones are out of whack to begin with. Is this the right answer?
Consult with Your Doctor for the Right Answer for You
Though there is still believed to be a link between antidepressants and miscarriage, many mothers are also finding that the bigger problem may lie directly between the actual condition of depression and miscarriage. In many recent studies, women who came off of their antidepressants months before getting pregnant still suffered miscarriage. So, though some experts believe that the bigger problem may reside in a connection between the actual medication and miscarriage, others believe it has more to do with depression itself. This is something important to analyze if you fall into either category, so that you can make the best decision for you.
Though the link between antidepressants and miscarriage may be hotly debated, it's always best to talk to your doctor. You want to find out if the benefits outweigh the risks of stopping this medication. If you have extreme depression, then find out what can help you to cope. If you are thinking about trying to get pregnant, then consult with your doctor to see what will help you the most. You want to do your part to keep yourself healthy and to protect your unborn child, and there is sure to be an answer that best fits you. There is surely help to be found as you try to lower your risk for miscarriage.
---