Weight Loss Advice for Breastfeeding Moms
Hits: 2709
Rating:

( 0 Rating )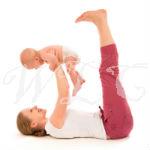 When the time comes that you're ready to lose the pregnancy pounds, it can be difficult to know which weight loss advice for breastfeeding moms is the healthful and rational way to go. After all, your body is currently different than it has ever been before. Many things that used to make sense don't apply at the moment.
Moreover, you need to be very careful about the weight loss advice for breastfeeding moms that you actually take. There are a staggering number of misconceptions continually circulating about losing pregnancy pounds while nursing. Among the most common myths is that as long as you're nursing your baby, any added weight you happen to be carrying will magically fall away. Equally, other myths say that it's nearly impossible to get your body back in shape as long as you're still lactating.
Neither of those extremes are perfectly accurate. The truth lies closer to the midpoint between them. While breastfeeding does burn a lot of added calories (around 850 calories each day), you also naturally feel much hungrier as a result of that rapid calorie burn. As a result, be wary of any weight loss advice for breastfeeding moms that tells you to do as you wish and eat whatever you want as long as you're nursing, because that's not true.
After all, it's not as though the entire situation is the same as any other weight loss effort you've ever faced. Certainly, if you were burning an extra 850 calories each day before you were even pregnant, you might have dropped the pounds pretty quickly. However, after having a baby, you're hungry and exhausted. You aren't craving a cup of carrot sticks. The foods that are most appealing are those that are packed with simple carbs and fats. It's incredible how quickly you can negate those added lost calories.
Therefore, some of the best advice you can heed includes the following:
Don't put pressure on yourself. It will only make you miserable without speeding up the process.
Make clever substitutions for your snacks and meals and have them ready to grab and go.
Make healthful meals and snacks in batches and freeze or store them in portions so they just need to be heated up. If you're cooking anyway, you may as well make twice as much.
When you prep one meal, prep multiple meals, or a snack at the same time. As long as you're already doing it, a little more won't hurt anything and it will help you have something healthy to grab when hunger strikes next.
Eat small, frequent meals to keep cravings under control and to keep your hunger capped.
Gently exercise when you can.
Realize that when you're breastfeeding, you may not lose all the weight. Aim for a gradual, healthy fat loss and when you're done nursing, you can look into diet pills like FenFast 375 to give you an advantage.
---