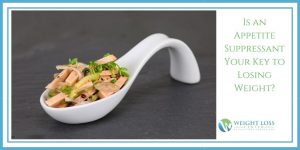 If you think about trying to lose weight, an appetite suppressant may sound like an extremely appealing option to help you out. After all, who wants to feel hungry all the time? Nobody, that's who.  Diets that make you feel like you're starving simply don't work because you can't keep them up. If something isn't sustainable, then any results it does provide will be temporary. You'll just see them fade away again as you give up on the strategy you were using.
Are Appetite Suppressants the Safe and Effective Solution You've Been Waiting For?
Some prescription obesity pills help to provide weight loss support through appetite suppression.  This can make it easy to believe that this is the top effect you should be looking to receive from any supplements you take, too.  While this may be beneficial to you, there is a lot more to consider before you decide that this is the right path for you.
It is also important to know that there are many other types of support out there aside from appetite suppressants and that many people find that they gain far more benefit from those other options.  To make sure you're getting the support you need so you can successfully keep up your weight loss strategy and reach your goals, it's important to think the benefits through quite carefully.
There is a Lot More to Weight Loss Support than Appetite Suppressants
It's easy to feel that if you aren't feeling as hungry, it will be simple to lose weight.  While that is certainly true to some extent, research shows that there's a lot more to it than that.
The fact is that many of us don't stop eating just because we're not hungry. If eating the quantity we actually need was enough to stop us from consuming more food, then obesity wouldn't have reached the epidemic proportions that it has.
Consider the reasons that you eat beyond nutritional needs:
Flavor and enjoyment
Social reasons
Celebrations and special occasions
Boredom
Stress and emotional upset
Not to mention the fact that different foods contain different amounts of calories. You can eat a massive salad or one bite of a deep-fried candy bar and consume about the same number of calories. The candy bar might have been fun to eat, but the massive salad would have been much more filling. Therefore, food choice can also play a far more important role than appetite suppression in avoiding overeating.
What Other Options Are There?
The great news is that if the short-term and limited benefits of appetite suppressants aren't for you, there are other supplement benefits that can also provide you with a spectrum of support in making it easier to stick to your healthy eating and exercising choices. These will help you to build those activities into habits so you can keep them up over the long-term, even after you're no longer relying on the diet pills anymore. Look for options like FENFAST 375 that will provide you with benefits such as:
Energy boosting
Fat burning workout performance support
Focus enhancement
Powerful thermogenic benefits
Healthy metabolism support
Fast acting effects
With these benefits, you'll have the drive and energy you need to keep up with your diet strategy, to pour yourself into your fat burning workout performance, and to build habits you'll keep up for years to come so that your weight won't return once you've lost it. Many people find that these types of benefits provide them with a much more realistic and ongoing advantage over appetite suppressants.